I took piano lessons when I was a kid. I was fairly decent at it, too. What happened? Oh, I got into junior high and became more interested in volleyball and cheerleading. By the time my high school years rolled around, playing the piano was all but forgotten. My mom warned me over and over again that I'd regret quitting my lessons. I'll let you in on a little secret, listen carefully - mom's know what they're talking about! It's true! I don't know how many times I've thought, "Oh, how I wish I could play." Every now and then, I sit down and tickle the old ivories, or at least try to. It's certainly not perfect, but I've retained what I've learned pretty well. I've thought about being diligent in playing again, to get better again, but somehow I never have time. I seem to have lost a few hours in each day. I think with every child you have, you lose 2 hours of the day somehow. I'm down to 18-hour days - there's no time for piano!
I want to make sure my kids are musically educated. A knowledge of and appreciation for music is very important. I really had wanted to incorporate beginner's music theory into our learning this year. My piano is still at my parents' house though, since there's really no room for it at ours. I know, excuses excuses.



Recently, I was introduced to
KinderBach
, online piano lessons. How cool is that? And what's even better is that they suggest using a keyboard for the lessons. A keyboard! Why didn't I think of that? The kids love making
noise
music on my old, little keyboard. I was very excited to start using the program, and with over 240 lessons, there's something for the slightly more advanced pianist as well. Alyssa, my 3-year-old, had no other experience with learning music, so she started with lesson one.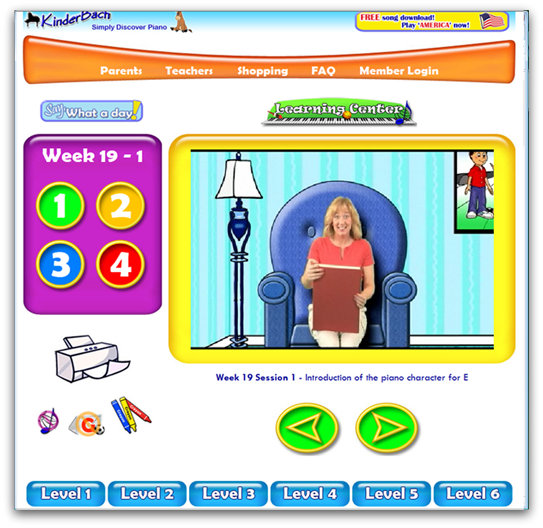 KinderBach incorporates videos, worksheets, music, and cute characters into a fun learning experience. It teaches note reading, rhythm, singing, composition, and music vocabulary. It can be used both at home and in the classroom. Karri Gregor, the creator, talks to the kids on their level and draws them in. Alyssa watches the videos with a smile on her face.
Alyssa has absolutely loved her experience with KinderBach! She feels so grown up that it's her program and that she's learning to play the piano. (The lessons can be used for multiple children, each at their own level, but we've chosen not to use it with our oldest since he's currently interested in learning to play the guitar, and our youngest is, well, too young.) Alyssa's working on week 6 right now, and is no where near playing her first concerto, but she's already learned a lot - and had fun doing it!
KinderBach offers many different purchasing options:
1) Year Membership - $95.88 one-time payment for the year (equivalent to $7.99 a month)
2) Monthly Membership - $19.99 billed monthly
3) Day Pass - $5.95 to try the program for a single day
4) DVDs - See
website
for various options
And if that's not good enough, you can currently take advantage of their
40% off clearance sale
! You can even try the
first 2 lessons for free
to see if it fits your family.
If private piano lessons are not in your budget, or if bundling the kids up in the middle of winter to head out to lessons does not sound like fun, check out
KinderBach
and learn to play the piano online in the warmth and comfort of your own home.
Be sure to stop by the Crew blog and read other reviews
HERE
.
* I was given the opportunity to try this program in exchange for my honest review. All opinions are my own.