My kids love using the computer. They're great at using the mouse, and most of the time, it suites their needs. But . . . it's those times when they need to actually type something when they struggle. Click . . . click . . . click go the letters. Then, "Mommy, where's the Y?" . . . click. It is time-consuming for sure.
That's why I was excited to review
Christian Keyboarding
. I know my kids are young (oldest is 6), but the more they're familiar with something, the easier it will be to learn. Let's face it, this is a very techy age. Kids need to know how to type. Somehow, when I was in school, I never took a typing class. Oh, it was required, and I have no idea how I missed out. Either way, I learned by typing up reports and such, but it took longer. If my kids can learn while they're still young though, it'll make it much easier for them.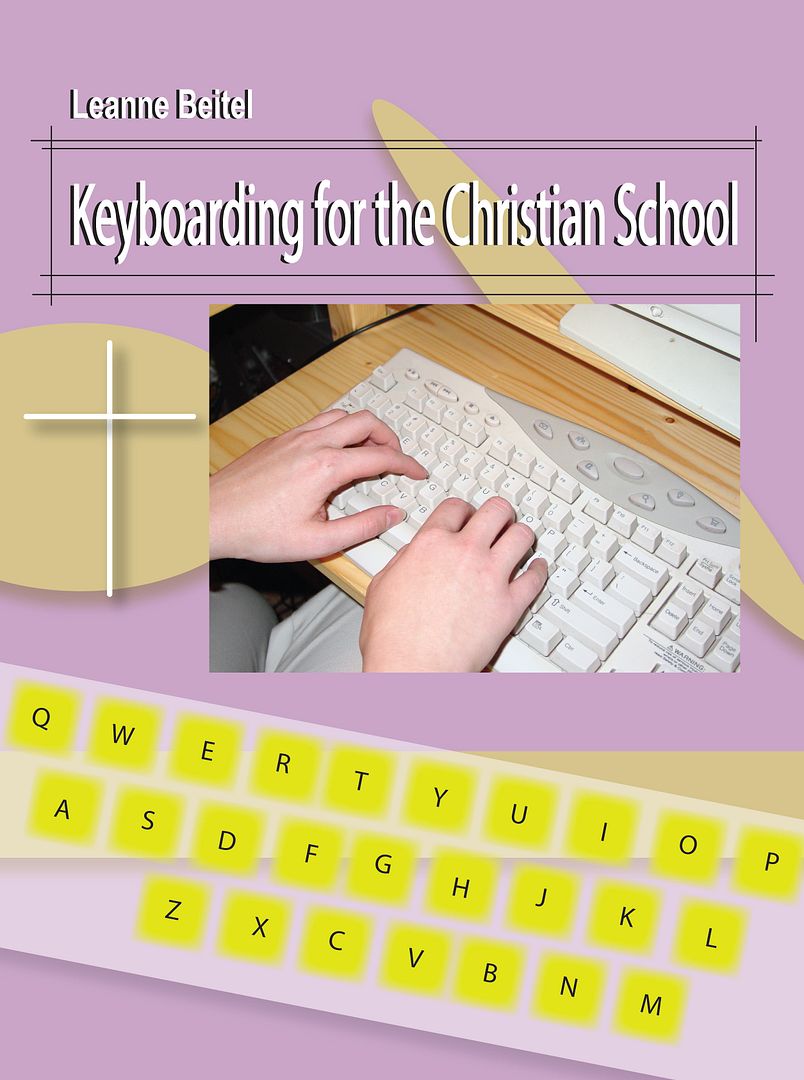 Your kids are going to type something while they're typing, right? (I know, deep stuff here.) What better way to learn to type than using verses. Leanne Beitel created Christian Keyboarding by combining the elements needed to satisfy state education requirements and Biblical references (I can't endorse the version used) for the private school requirements.
The lessons are short. That's a big plus for my little ones. The first of the thirty-two lessons starts with learning two letters, f and j. In lesson two, they add two more letters and then review the first two. The lessons continue in this fashion until they've practice enough lessons to start forming words. By the end, they'll be typing full paragraphs.

This curriculum offers two versions, elementary ($12.95) and secondary ($15.95.) These are both printable e-books. Instead of printing out each lesson though, we viewed them on the iPad and typed from there. It was easy to zoom in to make the font bigger for my 6-year-old. The format of the lessons is basic. In a good way. There are no pretty pictures to distract them, no dings or buzzers to validate the work.
My son was very excited to learn to type. That excitement lasted too . . . for a few lessons. He realized that it was going to take work. It was going to be difficult. He was going to make mistakes. You see, my son is very much like his mother. (Shocking, I know.) We're perfectionists. If we're not good at something, we don't like doing it. It didn't matter how many times I praised him for how well he was doing or ensured him that it was ok to make mistakes, he became discouraged. I understand that his small hands don't like to stay spread properly across the keys. I know that his little fingers are still weak. And that's ok. Like I said in the beginning, the more familiar you are with something, the easier it will be to learn.
I think this is a fantastic program.
I think it will benefit my children greatly.
I think we'll wait a bit before trying again.
Don't let that stop you from buying it though! From now until August 29, 2012, you can save 20% on your order using code SUMMER2012! Also, there are tons of free lessons on the site and resources to help you along the way.
As always, you can read more reviews of Christian Keyboarding on the
Crew blog
.
* Disclaimer: I received this e-book in exchange for my honest review. All opinions are my own.