Another year of The Old Schoolhouse review crew started a few weeks ago. We've already gotten some really great products that are working very well with our family. We have been so blessed to be part of this group.
Each month, the issue The Old Schoolhouse (TOS) magazine is available online. I've said many times that I'm a book-holding, paper-loving, feel-it-in-my-hands type of girl. When TOS first switched to just a digital magazine (except for 1 huge paper issue a year), I was slightly disappointed. No more finding the beautiful surprise in my mailbox each month. No more randomly flipping through the pages immediately upon retrieving it. No more adding to my collection stacked neatly and chronologically on the shelf.
But you know what made me forgive them for stealing my beloved paper copy???
It's now FREE! (Yep, I can easily be won over by a good deal, and there's no deal better than free.) Plus, I have to admit, it's really convenient having multiple issues on the iPad that I can access when I'm out without having to lug my entire library around with me. Ha!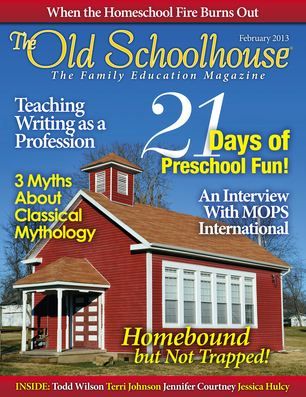 Don't think that because they're giving this magazine away for nothing means that the quality is lacking. It's 156 pages packed full of great resources that will help every homeschooling family. There are articles about the importance of quality literature, for those with special needs children, about history (even an interview with a colonel!), for those with preschoolers, for those who are struggling, and so much more.
Enjoy!