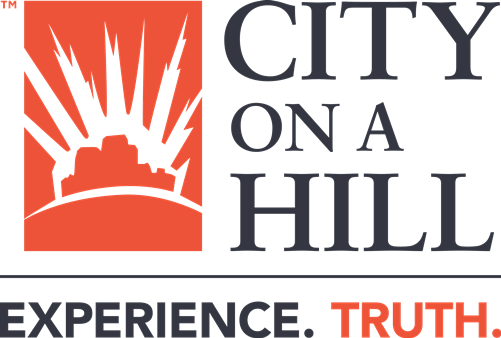 A Note from Erika:
We've been part of the Homeschool Review Crew for over 5 years now. During that time, I've written many reviews, but this is the first one that Leighton has done. When I first saw that we had the opportunity to use the Manhood Journey Father's Starter Kit, I thought it was a great way for Leighton to have some quality one-on-one time with our oldest son. We need to be intentional in training our children and this kit is designed to help fathers do just that. Manhood Journey & City on a Hill Studio have created a system for ages 8-17 that involves discussion questions, Bible reading, activities, and work assignments that all work together to help boys become men. The rest of the review was written by my husband.
Then I left home, went off to Bible College, and was all on my own. I didn't have my license yet, so if I needed to go somewhere, it was my bicycle or convincing/paying somebody to drive me. Responsibility got thicker and trials got heavier. When the bank account got thin it was my fault. If I didn't have anything to eat it was my fault. If somebody took issue with what I had done I couldn't hide behind anybody. It was time to step up and realize I had to be responsible for me. Some people might help, but ultimately it was up to me. I had made it to manhood.
When Jake

(11 years) a

nd I sat down to start this program, our journey, the first question we went over from

the books was, "What is manhood?" His response was simple, "An adult man." He said this to me like, "Dad, isn't that obvious?" What we must realize and admit is that no individual ever
arrives
. One of the purposes early on in the series is to recognize that manhood is not a destination but rather a journey, thus, "Manhood Journey."
The kit we received contained the first of six modules. Included in the kit was the "group guide" and the "1 on 1 guide" for the Embarking Module as well as a DVD with introductory videos for each of the modules. The kit also includes 10 map/brochures containing information about each of the modules to help recruit dads to join the group and decide which modules to complete after you finish the first. Included with the kit is a free copy of the book Wise Guys: Unlocking Hidden Wisdom from the Men Around You.
The program is setup to be used in a group setting once a week and then you carry conversations with your son(s) throughout the week about the group meeting. It does say that the guide can be used without the group, you just need to skip the group-related parts. This is what we did. I took our oldest boy, Jake, aside and he and I endeavored to go through the first module, Embarking. We have not, at this point, completed it, but so far we are enjoying the time together.
The purpose of the Manhood Journey is to help fathers to build up the next generation of godly men by

providing resources and guidance for small groups of fathers and sons. The idea is for each father to be the main guiding influence in their son's life to push them to godliness. Rather than relying on the pastor or youth pastor to instruct your son in a christian walk, you can do this yourself.
I was rather disappointed, when we got the kit, to find that the NIV was used when scripture was referenced throughout the studies. I firmly believe that the King James Bible
is
the Word of God for the English speaking world and any effort to make it "easier to understand" is changing it. This, though, is not the time to debate what is scripture and what is not. I am simply wanting to ensure that it is clearly known that this program does use the NIV primarily with a few quotes taken from other versions.
I do find the program very well put together and rich in content. You start with the five "big rocks" of Godly manhood. The fact that a godly man trusts God, prays fervently, studies God's word, builds relationships, and serves others. An illustration is described and visualized using actual rocks to relate the need of these five things in a godly man. We chose to use Lego blocks, Duplos actually, along with regular Lego pieces to represent the smaller

rocks

. The goal was to see how to fit all aspects or "rocks" into your life. Start with the big important thin

gs, and the smaller things will fall into place.

Jake now has a stack of five different colored Duplos on his shelf to help him remember these five character traits. These five "big rocks" are to serve as the foundation of your manhood journey.
For us the largest take away from the journey thus far is the time that Jake and I spend together 1-on-1. With five kids in the house now it has been a long time since Jake has received a lot of

time alone

with his father. The method that we have taken to is that I leave him a sticky note in the morning with a few references for him to look up in his Bible. He then writes down what it speaks to him. (The guide does have you each start a journal to take down notes from the journey.) We would then sit together at night and go over those few verses and the topics from the guide. Jake asks each evening when I get home if we are going to do the journey. He has been reading his Bible more and taking notes on all of it. I'm proud of what he is doing and have been enjoying our time together as father and son.
Even with my initial disappointment with City on a Hill's choice of scripture reference I have enjoyed the other content of this program and would recommend it with the discretion of whichever version you use. Another suggestion I would make is to get both the group and 1-on-1 guides even if you are not meeting with a group. I have found in each of lessons we have done that I did not get the entire gist of the thoughts without first reading through the group guide. Not a deal breaker, but in the intro of the 1-on-1 guide, as well as on the site, the impression is made that the program can be done without the group guide if you are mentoring a young man 1-on-1. I really do like this idea of encouraging men to take the reigns of raising good godly men in their own sons. They will learn from the example we set for them rather than a possible conflict of what we do versus the other men we may place in charge of their time and teaching. By doing the training through our personal time we emphasize the importance of the traits we are trying to set in front of them.
As you go through the lessons that focus on each of the "big rocks" you are given questions that you can use to interact with your son. For some topics, the conversations that we have had with our boys has waned because of their desire of independence and our desire to not be overbearing, but any nervousness of topic choice can be set aside by the direction that is given in the guide. Simply read through each of the concise chapters before you take it to your son so that you are familiar with it. Use the guide as you teach him. Don't be afraid to read from it when you ask the questions. It really is ok if your son knows you actually are a human and may not know everything. These guides really will help you through the entire process. Then once you are done with Embarking, you can choose your next stop. Whether it's a clean heart, or teaching a good work ethic. Maybe it's uncovering the reality of what being a man is apart from the lies from the world, or learning how to remain strong through trials and temptations. Also, lessons on servant leadership, remember, even Jesus lowered

H

imself to wash the feet of the men

H

e was leading here on earth.
Let me simply encourage you that if your influence has waned in your son's life or if you want a little more help as you try to teach and disciple your boys, give Manhood Journey a look.
You can connect with the companies on the following social media sites:
You can see how other homeschool families used this study by reading the reviews on the Homeschool Review Crew blog.