Time4Learning
is an online home education program for Pre-K-8th grade that combines learning with fun educational teaching games. It can be used as a full curriculum, as a supplement, or as a tutoring session or refresher course. It covers language arts, English, math, science and social studies. The majority of the curriculum is web based, so there is no software to download, no CDs and nothing additional to purchase. Members can access the program 24/7 from anywhere with a computer and an internet connection.They also offer printable worksheets for reinforcement.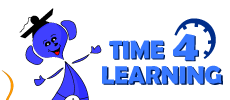 Students are given access to one grade above and one grade below their grade placement. This helps to customize the program for each individual student. With more than 1,000 interactive animated lessons, there's something for everyone.
Time4Learning
also keeps progress reports for each child. This is a wonderful way to keep a record of the lessons they have done and how well they did them. You can see where they excel and where they need more work.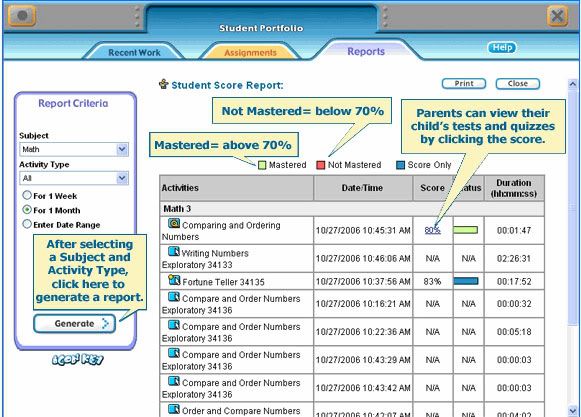 The cost is $19.95 for the first child and $14.95 for each additional child. Because it is a fully comprehensive program, there is nothing else to purchase.
I really, really want to say that my kids loved this program . . . but they didn't. Alyssa (3) enjoys it somewhat. The lessons for her age are colors, alphabet, shapes, fruit, space, and many more. There are so many game-like lessons for her to choose. Jacob (5) fights me every time I tell him it's Time4Learning. Once he's logged in, he will complete lessons without complaining. After the lesson time is over, the kids can proceed to the "playground," an area filled with many games for them to play. Both time amounts (lesson and playground) can be changed under the parental controls.
I really cannot say why my children don't care for this program. (There is another online program that they absolutely love. Maybe that's why?) I think it's a wonderful resource . . . for those with children who will take advantage of all it has to offer. As with anything though, it's not for everyone. That's why it's so wonderful that
Time4Learning has a 100% satisfaction guarantee!
If you are not completely satisfied, you can cancel your membership within 14 days for a full refund. You can even try some
demo lessons here
.
Head over to the Old Schoolhouse Homeschool Crew blog to read more
reviews of Time4Learning
.
I was given a one month subscription in exchange for my honest review. All opinions are my own.