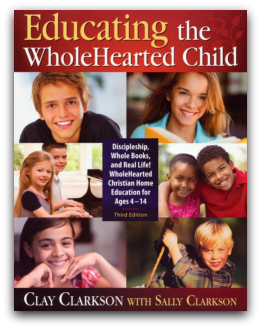 I recently had the opportunity to review the third edition of
Educating the WholeHearted Child
by Clay and Sally Clarkson. Let me say, this is not a read-it-once-over type of book. It is one that I will reference through the years as we continue our homeschooling journey.
I was surprised when I retrieved this book from my mailbox. It looks more like an actual textbook than a "how-to" book. And in a way, I suppose it is. Educating the WholeHearted Child is a fantastic resource for any homeschool parent. This 370+ page book is chock full of wisdom, instruction, and practical ideas.
Will this book tell you the best curriculum to use? No.
Does it give you an exact schedule to live by? No.
Can you find a list of book reports and science projects every student should complete? No.
What is the purpose of this book then???
"To help you discover the fully dynamic of wholehearted learning so you can see how your home, by God's design, will actually work for you in nurturing, discipling, and educating your children. . . Wholehearted learning will radically change the way you view your home, your children, and how God meant for you the live and learn."
All throughout the margins of the book are Bible verses, quotes, various information and room for notes. Also, there are "In Our Home" sections scattered about where the Clarkson's honestly explain things they tried, what worked (or didn't work) for them, and a little about their lives. This is not a "stuffy" informational book, but rather a heart-based method pointing you and your family to Christ.

For $22 you will get a treasure of a book that's worth it's weight in gold.
You can see other reviews of Educating the WholeHearted Child
here
.
* I received s copy of this book in exchange for my honest review. All opinions are my own.