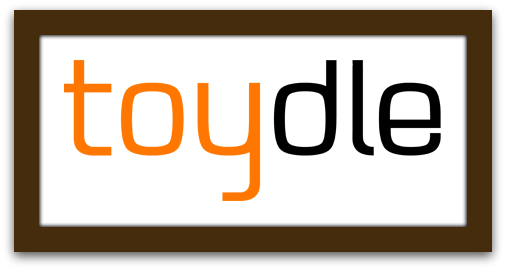 Let me start off by saying
we love this product
!!! I was "super-duper excited," as my 6 year old says, to review this. My kids love, love, love making tents. Kitchen chairs, couch sections, beds, random furniture - you name it, they'll build a tent using it.
Toydle
made a way for the fun to happen . . . without mommy throwing out her back trying to move the couch!
Each fort is constructed with handmade laminated wooden blocks and high quality PVC tubes 29" long & 1/2 inch wide. All Toydle forts include an industrial strength storage bag and clips to help secure your sheets and blankets.
The tubes slide right into the blocks, making easy for children to construct their own creations. As soon as my kids opened the big yellow bag and started pulling pieces out, they went right to work setting it up. It didn't take long before Daddy saw how much fun they were having and joined right in - all while Mommy took video . . . that we've unfortunately lost.
As of yet, we've had many traditional tents, a fire station, spaceship, restaurant, house, race car, airplane, grocery store and more all set up in our living room. My 3 little ones have had so much good quality, imagination-building fun! And when they're done, they tare it all down and put it away - it's that easy to take apart. The kids have even used the tubes as other fun things like ski poles, rain sticks (put marbles inside and close ends with wooden blocks), and baseball bats using shoes as the "ball" (we won't talk about that one!)
Another great thing about this company is everything is
American Made
! Each tube is cut and every wood block is hand-shaped by an American worker. Also? They offer an Unconditional Guarantee on every Toydle product, replacing any piece that fails
for any reason
.
They are so convinced that their forts are the strongest, longest lasting, and highest quality forts you will find anywhere, that they back that up with an Unlimited Warranty!
Really, the hardest part is figuring out which fort you want. You can purchase the
Toydle Fort
and 45 square feet of fun for $149.99. Or for twice the square footage and double the fun, you can buy the
BIG Fort
for $229.99. You can check out all the products on
www.toydle.com
, email them at
info@toydle.com
or call (208) 371-9929.
If your kids, young or old, enjoy making tents or building structures, then a Toydle fort is a must!
Read more Crew reviews of Toydle forts
HERE
.
* I was generously given a fort in exchange for my honest review. All opinions are my own.