CapJaxMathFax
(Say that 10 times fast!) is a math facts review program. The program was created by
Jack Fretwell
, a man with a degree in Educational Technology. It implements a rating system that uses reinforcement and feedback data to create a game-like feeling.
Why choose CapJaxMathFax?
Uses a computer to provide drill and practice so that practice time is not limited by teacher availability.
Automatically generates exercises. Teachers don't prepare quizzes. They merely provide the parameters for them.
Builds exercises for any of the four math tables (addition, subtraction, multiplication, division) or any combination of tables.
Guarantees student success by taking small steps through levels of
difficulty.
Can focus practice at a single level of difficulty or may review earlier levels.
Randomly generates problems without repetition.
Allows variable numbers of problems in an exercise.
Reduces learner stress by timing facts individually.
Provides immediate positive feedback for correct answers.
Provides extra reinforcement for fast, correct answers.
Displays an overall performance report at the conclusion of each exercise.
Prints reports for teacher review and for use as certificates of achievement.
Displays and prints item diagnostic details.
Uses a rating system that allows students to keep personal scores and
set goals.
Charts student rating progress graphically.

Maintains a database of student activity over time.
You can purchase the downloadable license for $29.95 or a CD for $35.90 (+ S&H.)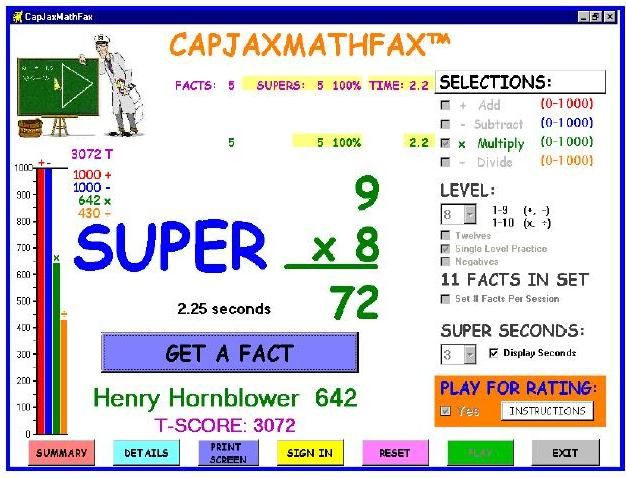 I like that the parents can easily customize the facts that the child will practice at each sitting. It's also a nice alternative to flashcards and written work. It does, however, require the child to be familiar with the keyboard. While, Jake (6 yrs) can use the computer, he's much more competent with a mouse. Trying to answer to the equation and then find the number on the keyboard was slowing him down. We tried him audibly answering the fact and me typing it for him. This strategy seemed to work a little better. He still struggled though. We dropped the level down to pretty simple equations, yet he still took much too long to answer. Problems that he normally answers without any hesitation were taking 7-10 seconds. The urgency of answering as fast as he could was actually slowing him way down.
Just because this wasn't a good fit for my child, doesn't mean that it won't be for yours either. Head over to the website for a
free evalutaion
or to the
Crew blog
to read what others thought of CapJaxMathFax
*Disclaimer: I was given access to the program in exchange for my honest review. All opinions are my own.