It's no secret around here that I love reading. (Remember
World Read Aloud Day
and
Mother Goose Day
and
this happy day
?) And books! Oh, how I love books. The weight of the book in your hand, the feel of the pages, the smell of the paper . . . aah, I could buy books all the time.
Wait a minute. I do buy books all the time. At Salvation Army, garage sales, mom-to-mom sales, anywhere I can get a precious reading treasure for cheap.
There's just one problem with that: we have hundreds (thousands?) of books in our house. My husband just rolls his eyes when I stop to look at yet another one. He would much rather get e-books. They take up no room on a shelf and the whole library can go with you anywhere. I had no desire for paperless books . . . until the last few months when I realized just how convenient they are, especially for homeschooling.
That's one reason why I love
Heritage History
. They offer 5 libraries: Young Readers, Ancient Greece, Ancient Rome, British Middle Ages, and British Empire. Since my kids are all 6 and younger, we chose the Young Readers CD. This introductory unit of the Heritage Classical Curriculum contains the complete illustrated texts of
86 books
, recommendations, timelines, short biographies, historical images, and teacher's guide. Did you catch that? Eight-six books! I received 86 books in the mail and didn't even have to sell our kitchen table to make room for them in the house.
Not only is each CD packed full of useful aids, but the website itself is also very useful. If you're studying a certain civilization, go
here
. If you want to learn about a specific person, go
here
. If you interested in battles and wars, go
here
. Just about any way you can think of to narrow down a search, you can find it there.
Another great thing about the curriculum is that it includes 3 copies of each book. I can choose to read the books to my kids from our Kindle, iPad, the computer, or print them out.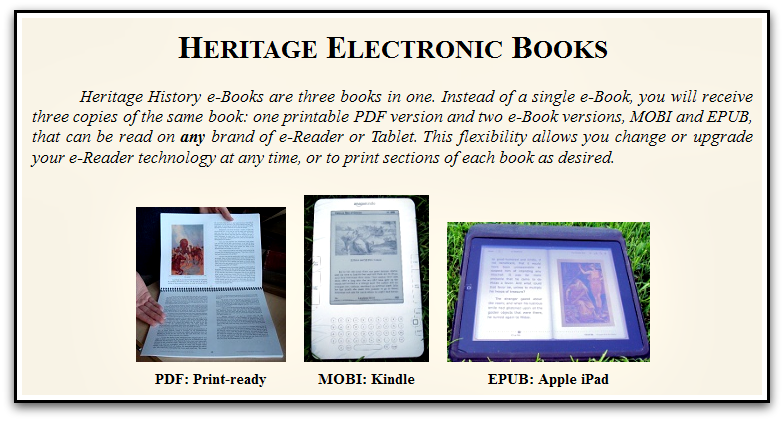 I just told you what it is, but why is the Heritage History Curriculum a superior way of learning history? Because it -
Takes a Living Books rather than a textbook approach to history—students read a variety of engaging biographies and historical sketches rather than one comprehensive text.
Is based on national histories rather than epochal histories—students study one civilization at a time, rather than contrasting contemporaneous civilizations.
Is narrative rather than analytical—students are introduced to the great characters and events of history without being required to make comparisons or draw conclusions.
Focuses on studying the most important periods of Western Civilization in depth, rather than touching lightly upon dozens of unrelated cultures.
Explicitly encourages students to pursue historical topics of personal interest in addition to making selections from directed reading lists.
You still need another reason why you should buy this? Each CD costs only $24.99 plus shipping. For the Young Readers set, each book (not even including all the extra resources) ends up costing about 30
¢. That's cheap enough even for me!
And better yet, you can get the entire 5 CD curriculum set for $99.99 plus shipping. That's 289 books at about 35
¢ a piece! And you won't even have to build a separate room on to your house to store them all.
Using good literature to learn history has been our plan from the beginning of our homeschooling journey. I love the simplicity and thoroughness of this program. I know that we will use this curriculum for years to come.
Still not convinced? Head over to the
Crew blog
to read more reviews of Heritage History.
* Disclaimer: I was given this product in exchange for my honest review. All opinions are my own.