I have fallen in love this past year.
No, we didn't get new neighbors.
Who Is My Neighbor
is part of the
What We Believe Series
, a biblical worldview course. The purpose of this course is stated as follows:
"Worldview studies help children understand how they (and other people) perceive the world around them. Understanding what we believe as Christians and why we believe it helps your child to form a worldview that is centered on God's truth as presented in the Bible. Once we learn to see the world the way God sees it, we can begin to look at other worldviews and understand why others believe as they do. This understanding will help our children, as they grow, to communicate effectively with others about the hope that is in us as Christians. In addition to teaching the foundation beliefs common to most Christians, the What We Believe series takes a respectful, factual look at other worldviews and teaches children to take notice of differing worldviews coming at them from books, radios, TV, movies, the Internet, friends, etc."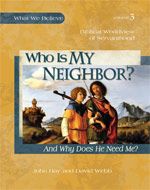 Each volume in the series stands alone, so starting with volume 3 was not an issue at all. It's geared toward ages 6-14, but I've been using it with my 6, 4, and 2 year old. The textbook ($39) is a beautiful, hardcover book. It's written directly to the student, which makes it easy for me to read to my kids without having too much explaining to do. Parts of this book are above them for sure, but it works with a little adapting. The book is so thorough, so well-written, that I can easily use it again when the kids are older. I know they'd glean more truth from it.
This course is filled with short stories, interesting information, and much history. My children eat that stuff up. When they can answer every question at the end of a story, you know they enjoyed it.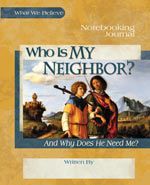 You can also purchase a notebooking journal ($24) to compliment the textbook. This spiral-bound book lays flat on the table, making it easy for the student to complete the work. It does have questions, but it also has fun pages like crossword puzzles, words searches, pictures to draw, and blank pages for notes. It's too advanced for my crew and too pretty to just let them color it, so we'll implement it when they're older.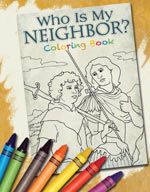 Those Apologia people sure are smart though. They even offer a coloring book ($8) for the young ones! My kids loved this high-quality, detailed book. The pictures accompany the lessons and reiterate the stories. My kids liked looking through the book and trying to guess what the next story would be. Sure, you could use the textbook on its own, but the journal for older kids and the coloring books for the younger ones are great resources.
I really like this course. It's thorough, high-caliber, and easily used with multiple ages. I know we'll use this book in the future (and make good use of that journal!) I've learned something this past year: if it's from Apologia, it's gotta be good.
* Disclaimer: I received this product in exchange for my honest review. All opinions are my own.