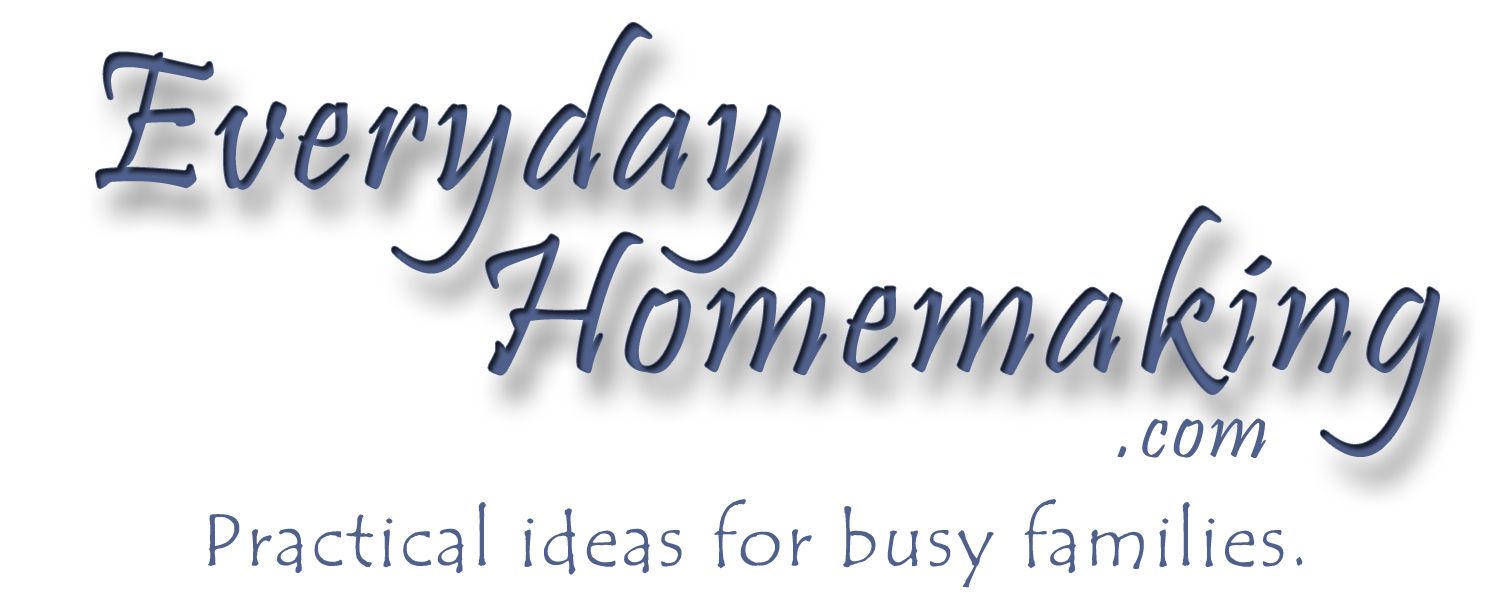 I love to cook! I know, that must come as a surprise to you all. (Did you catch that sarcasm?) The kitchen is my favorite place to be. It's where I spend the majority of my time. You can tell from our
Tasty Tuesday
recipes that I love to bake and cook from scratch. It's the way I was taught. My parents (yes,
both
my parents are phenomenal cooks) make gourmet meals. My dad is the one who is always asked to bring desserts to gatherings. I got my love of cooking from them, just like I hope to pass it on to my own children.
As part of the Molly Crew, the homemaking division of the Schoolhouse Review Crew, I was given the choice to review
The Everyday Family Chore System
or
Everyday Cooking
from Vicki Bentley at
Everyday Homemaking
. Since we are insanely organized and my kids are perfect angels when it comes to chores, we obviously didn't need the chore guide. (More sarcasm there.) I chose the cooking one. Ok, so maybe it was my obsession with cookbooks.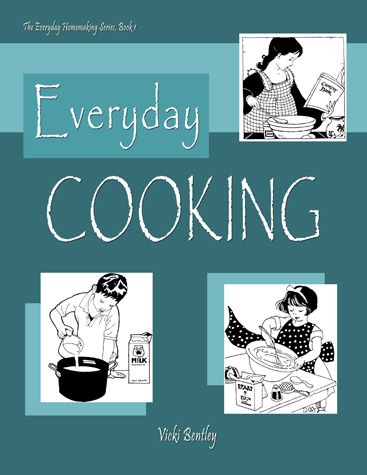 Everyday cooking ($17.99 coil-bound, $14.99 pdf) is a collection of tried-and-true recipes. It's filled with tips to help you with simple everyday cooking. (Appropriate title, huh?) And if there's anyone who might know a few tips and definitely has some tried recipes, it's Vicki Bentley. She is the mother of 8 and the foster mother of over 50 children! I think she's cooked a meal or two over the years.
The 150+ recipes are divided into categories:
Appetizers & Dressings
Bread & Grains
Main Dishes & Soups & Sides
Desserts & Snacks
The recipes have an emphasis on whole foods, which I love. I'm definitely a if-I-can-make-it-from-scratch-I-probably-will kind of girl. There are recipes for taco seasoning, cheese sauce, salad dressings, sandwich buns, barbeque sauce, onion soup mix, frostings, ice cream, and more. Some of the recipes are the same or very similar to ones I've been making for years. One recipe that I'm very excited to try is tortillas. I've seen other recipes for them and have been wanting to make them for a while, but have been a little hesitant. Vicki makes it sound so simple though. I'll let you know when I get over my reluctance and make them.
Even if you're typically not a from-scratch person or really don't know how or don't like *gasp* to cook, this cookbook is still for you. The recipes are simple. They're tried-and-true, remember? You won't find recipes for beef wellington, lobster tails, or steak Diane (for those recipes, see my parents.) These are all meals that a novice can make. She even includes helpful sections at the back of the book. You'll find a spot for measurements, ingredient substitution, meal planning, sample menu, and info about kitchen equipment.
Other than the lack of pictures, I really liked this book. Yes, I'm a recipe junky, but I think you'll like this book, too. And from what I see here, I'm guessing the
chore system
is a good one as well. I'll keep that in mind. You know, if ever I become un-ultra organized and my kids lose their angel status. *cough cough*
* Disclaimer: As a member of the Molly Crew I received this pdf for free in exchange for my honest review. All opinions are my own.