This has to be the most fun review we've had!
And the most painful.
Sounds kinda contradictory, huh? You see, we're a fairly active family. The kids are . . . well, typical kids. They run, jump, swing, climb, wrestle, and so on. People ask me how I stay so small after having 4 children. I usually respond with "I never sit down!" It's a constant go-go-go in our house. One of our favorite activities is geocaching. We'll load up the baby in the stroller, 2 kids in the wagon, and our oldest on his bike and find caches along 1-2 mile stretch. Not only is it fantastic exercise, it's so much fun!
We received
Fitness 4 Homeschool
physical education curriculum, geared toward K-8th grades. I'm doing this program with my 6, 4, and 2 year olds. This was going to be easy, right? Wrong. After just one lesson, I was sore. Not like I-can't-move-a-muscle-sore, but sore just the same. And being the smart woman I am, the next day I thought, "Hey, why don't we start lesson 2?" Yep, more soreness. I must be a glutton for punishment, because we continued in this fashion. We just couldn't help it. Each day we had so much fun! I laughed. Repeatedly. Like laughing-so-hard-tears-are-falling-and-I'm-getting-a-cramp-in-my-side laughing. We exercised mostly in our tiny living room. Picture with me - small space, furniture, baby gear, with 2 little kids and 1 mom attempting to shuffle across the room, bumping into each other, falling over, crashing. I should have videoed it.
Speaking of videos, along with the 260 Core 1 lessons, there are links to demonstration videos to ensure you're preforming the exercises and activities properly. For instance, I had no idea what
carioca
is until I watched the video. Then I said, "Oh, that's what's it's called!" I knew how to do it, but didn't know the actual name. My 6-year-old on the other hand already knew the name and demonstrated it immediately. He learned from a friend who plays football. Talk about showing up your momma! The Little Smarty Pants didn't know all the exercise names though, and the videos proved very helpful.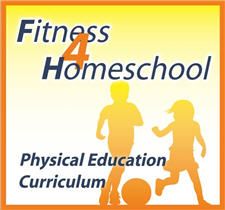 Since this is a
fitness curriculum
, it was designed to maximize the benefits of spatial awareness, body awareness, environmental awareness, enhanced neurological development, mind-body coordination, stress reduction, social engagement, poise and confidence. This is not a boring program! There is so much variety. I worked muscles I completely forgot I had doing things that felt like games. Remember the
crab walk
? I used to love playing crab soccer as a child. It was one of my favorite gym class games. Walking like a crab was not nearly as fun as I remember it though. It hurt! Immediately my triceps screamed out, "You're not a 9-year-old girl anymore!" I realized just how naive I've been about my physical shape. I need this program just as much as my kids.
The lessons are super simple to follow. Each one lists the skills taught, equipments needed (ie ball, bean bag, hula hoop, cones, jump rope, etc), suggested recovery time, 3-4 warm up exercises, 3-4 activity/game play, 2-3 cool down exercises, and an outdoor activity. Everything is very detailed and written out. They say it takes 30-45 minutes a day to complete. Honestly, I don't even know how long it took us. You know the saying time flies when you're having fun? So true! The kids would ask repeatedly to continue with an activity. One of their favorites is a variation on the bean bag catch. Every time you miss the bean bag, you lose a limb! We played that over and over . . . and over. There were many casualties that day.
The website has a
fantastic picture of brain activity
after only 20 minutes of walking compared to sitting quietly, proving that exercise is a fantastic stimulus for learning. I know I did the program backwards. See, the kids had so much fun and asked every day when they could exercise, that I used it like a reward. As soon as the rest of the work, the boring stuff - math, reading, writing - was done, we could swing our arms, hop around, and lunge across the room. It was fantastic motivation.
The Fitness 4 Homeschool Curriculum includes a startup guide, PDF lesson plans, video demonstrations, assessment tools, reminder emails, lifetime curriculum and video updates, access to online webinars and certificates of completion. Everything you need to give your children a thorough physical education course. I'm telling you, it's great. One curriculum for all your children with lifetime access to all the updates and revisions for a total of $57.00 Seriously, it's worth that just for the fun aspect, let alone all that good-for-you physical stuff!
I had been saying for a while that I wanted to get in better shape, but trying to find the time to exercise (remember - small room, 4 kids always underfoot) never worked. Now I can exercise with them. And have tons of fun at the same time. Sounds like a winner to me.
* Disclaimer: As part of the Review Crew, I received this pdf in exchange for my honest review. All opinions are my own.