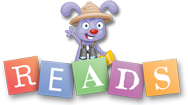 My love of reading began when I was a child. I could often be found by myself, book in hand. I can remember getting a
series of books
for my birthday one year. I devoured one book after another. Every 20 minutes, I would come into the kitchen to tell my mom that I had finished another book. After the third or fourth book, my mom became skeptical. There was no way I could be reading them that quickly and comprehending them, right? I started with the first book and related every single detail of each and every book until she finally said, "Ok, ok, I believe you!"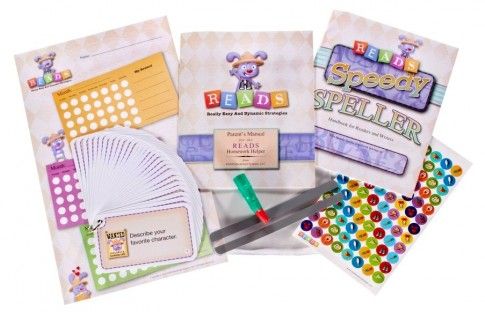 The system includes the parent's manual, question cards & ring, reward chart & stickers, magic finger & reading guide strip, and Speedy Speller, all kept in a reusable storage pouch. READS (Really Easy And Dynamic Strategies) works a little differently. Instead of asking the child to relate the story or details after he reads, you choose a question before the book so he has something specific to listen for.
Describe your favorite character.
Tell about something you read that was interesting.
Select 2 vocabulary words from the story. Give a synonym and antonym for each.
Tell how the story ended. Get creative and change the ending.
The program suggests that the student reads on his own and then comes to the parent to answer the question(s). Unfortunately, Jacob (7) did not inherit my love of reading. He will sit and listen to me read all day long and has just recently started enjoying reading himself. He does not read a book just because he wants to very often though. Instead, we used the questions for both my read alouds and his reading time to me.
He has always done very well in retelling the story and remembering the details. He and the two younger kids did enjoy the question cards. They gave us a fresh look at each story and got the kids thinking deeper about each detail. The loved trying to be the first one to answer the questions.
One thing that Jacob loved was the magic finger. As soon as I opened the box and pulled it out, he got a huge smile on his face. I was less-than-impressed. To me, it looks like a witch's finger, and we don't do witches. He placed it on his finger though and proudly proclaimed, "It's a dragon finger!" And then proceeded to chase his sister around the house. Yes, he's had a lot of fun with his dragon's finger. As far as using it to point to words in the story? It slows him down and distracts him. Same with the reading strip. He refused to use it because he didn't "need it." I could see those two items working with a child who is struggling. Jacob reads great. He just doesn't like to.
The Speedy Speller is pretty cool. It's a handbook that contains 1,400 words along with common abbreviations, numbers, symbols, punctuation, and more. It's designed to help your student learn the proper spelling of words. Jacob asks me all the time how to spell something. Usually, I'll ask him how he thinks it's spelled. I can remember when I'd ask my dad for a spelling, he'd always reply, "Look in the dictionary." Now, I can say to my son, "Look in your Speedy Speller!"
READS is geared for grades 1-4 and costs $19.95. It works with any reading material, helps develop critical thinking skills, and helps increase verbal expression. I think that if you have a student who is struggling with both reading and comprehension, this might be a good fit.
* Disclaimer: I received this product as a member of the Schoolhouse Review Crew in exchange for my honest review. No other compensation was paid. I am disclosing this in accordance with the FTC regulations.