My 8-year-old loves history. He's interested in reading about people that actually lived and what they did. His favorite books are biographies: Abraham Lincoln, George Washington, Daniel Boone, Ulysses S. Grant. He absorbs the information and flies through the books. I love listening to him learn interesting facts and eagerly relaying them to me. I knew he'd be excited when
Golden Prairie Press
sent us the
Digital Heroes & Heroines of the Past: America History Curriculum
to review. And I was right.
Amy Puetz, owner of Golden Prairie Press, publishes books that show history at its best and from a Christian worldview. It is her desire to "bring encouraging, uplifting, family friendly resources to Christan families and individuals." Audio books, cook books, books specifically for boys or girls, costume books for various time periods, curricula, and more--there's something for everyone. Most of the resources are e-books or digital downloads, but there are some options for printed books, as well.

The Digital Heroes and Heroines of the Past: American History Curriculum was created for students in grades 1-6, but can be adapted to be be used for kids both younger and older. I've been using it as the main history curriculum for my 3rd grader, kindergartener, and preschooler together. The curriculum collection has many components: part 1 & part 2 of the actual America history e-book, additional materials download, historical skits e-book, sing Some History CD download, and Listen to Some U.S. History MP3 CD download.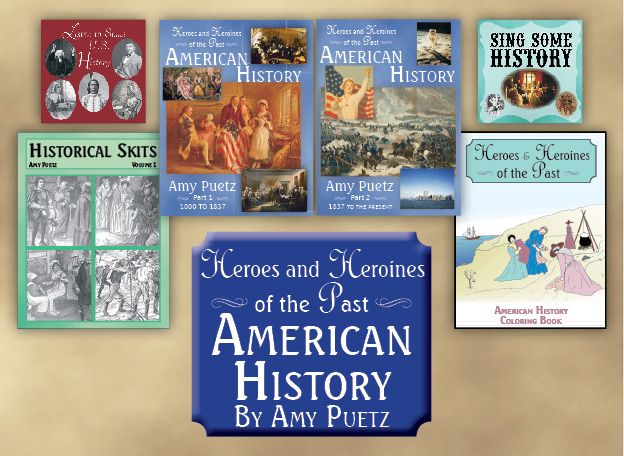 Heroes & Heroines of the Past: American History Part 1 & Part 2 E-books
This 30-week curriculum can be easily used with different ages and grades. Most lessons have a section for 1-2 graders that contains a larger font and basic overview of the stories. Immediately following that portion is the material for the 3-6 graders, which contains the same information just more advanced and more detailed. There are many options at the end of every lesson for review: questions, writing topics, geography, recipes, timelines, Scripture memory, examining historical art, period games, and more. Because I was using this for all my young children, I decided to use the 1-2 grade section. I fully believe that they could understand the more advanced reading, but not be able to do the accompanying work. Because of that, we adapted the review section at the end to work for us. Instead of having my little ones attempt to write out the answers on their own, we used it as a question and answer time, answering as much as they could. They love answering the questions about the art and race to see who can find the answer first. They also enjoy the fun activities like projects (creating tee-pees, Viking ships, hornbook, etc.) and recipes (play dough, succotash, rye and Indian bread, etc.).
View a sample
.
Additional Materials Download
This is full of supplemental materials for the lessons. It includes printable timelines, color artwork, game boards, coloring pages, instructions, videos, and more. It is written at the end of the lesson if you need to pull a resource off the download. Some lessons require the materials; others do not.
Historical Skits E-book
This book contains 19 skits from the time of Columbus to World War II. Skits are a great way to bring history to life. The only problem is that I am using it with young kids who can't read very well. They certainly cannot read their parts and act it out at the same time. I tried reading each part myself, using a different voice for each character. It made it interesting, to say the least. The kids found it humorous and got a little better understanding of the stories. I'm sure the skits would work much better with older kids who can play the parts.
View a sample
.
Sing Some History
This download has 20 songs that are mentioned throughout the book along with some sheet music. It has some more well-known songs, such as "Yankee Doodle" and "Pop Goes the Weasel," and some lesser-known ones, such as "Sweet Betsy from Pike" and "Uncle Sam's Rich Enough to Give Us All a Farm." My kids are used to listening to music through the day, while performing various tasks or just for entertainment. They enjoy when I play this, as well.
Listen to a sample
.
Listen to Some U.S. History
This is an audio collection of 20 original speeches, poems, sermons, and documents that are mentioned throughout the book. It includes "The Midnight Ride of Paul Revere," "Bill of Rights," "Give Me Liberty or Give Me Death," and more. There is a lot of important information included in this collection. It's just not appealing to little ones though. I found that my kids were lost and tuned it out while it was playing. It's definitely better for the older crowd, and even a good way for dad and mom to learn, too.
Listen to a sample
.
play dough Viking ship
This curriculum package is extremely thorough. It has so many components that enhance the learning and make it enjoyable. The lessons can take anywhere from 30-60 minutes, but I find on some days, it doesn't even take us that long, because parts are a bit advanced for my little ones. (Remember, I'm using this primarily with kids younger than the recommended age.) I do plan to use this again in a few years when they're older and use the more advanced sections. I love that I can adapt this curriculum to fit our needs. It contains so many resources that it's easy to use what works for us now, and then save it again for when the kids are ready for more. I am excited to continue to work through this now, and even more excited to pick it up again in years to come.
The entire
Digital Heroes & Heroines of the Past: American History Curriculum
costs $98.99. I think it is well-worth the price. There is also a physical version of the curriculum and many additional materials on the
site
. If you're looking for an American history curriculum for your homeschool, I suggest you check out this one.