I have 4 young kids. My life is noisy, rambunctious, and always busy. And things get broken. (Thankfully no people parts, just personal possessions.) No matter how much you tell kids to be careful, accidents happen. That's why we as parents take precautions before something goes wrong. We put fragile items out of reach, give them plastic dishware, place things of value someplace safe. And cover the iPad with a
Trident Case
.
As soon as we bought the iPad a few years ago, Leighton purchased a heavy-duty case to cover it. Things wear out over time though, especially when the 4 previous mentioned kids mindlessly play with the rubber covers and stretch the material. The review for the
KRAKEN A.M.S. CASE FOR APPLE IPAD 2/3/4
(compatible with the iPad 2, iPad 3, and iPad 4) came at a perfect time.

They have many colors for the cases, and after browsing the site looking at the different options, I chose the lime green. The cover is mostly black with a few pops of color. For this particular cover, the black sections are plastic and the green are rubber. It comes in 3 layers: shock-absorbing silicone inner layer (with plugs and dust filters for power ports, audio jacks and speakers), covered by a hardened polycarbonate outer-casing, with a built-in screen protector.
Those layers keep the device so well protected that the cases meet military standards by independent testing for drop, vibration, dust, sand, and rain:
Drop (Mil-STD-810F, Method 516.5) – 26 drops onto concrete from 4ft.
Vibration (Mil-STD-810F, Method 514.5) from 20-2000Hz across 3 different axes for a total of 18 hours.
Dust (Mil-STD-810F, Method 510.4) – blow dust for 3 hours at 29 ft / sec.
Sand (Mil-STD-810F, Method 510.4) – blow sand for 3 hours at 59 ft / sec.
Rain (Mil-STD-810F, Method 506.4) – 7.9 inches per hour of rain at 40 mph wind velocity for 1 hour.
All that sounded great. But then came the real test--my 4 kids. Hubby is the techy one in the family, so I let him assemble the case. The pieces easily snapped together and he was done in a minute or so. After we each ogled it, we handed it over to the kids. The case definitely adds extra weight to the iPad, but they're used to that anyway. Over the last many weeks that we've been using the Kraken case, I've not heard one negative comment from the kiddos. And of course, they even did some of their own drop testing--not purposely of course. Like I said, accidents happen, and this poor iPad has seen some accidents. We've not had one issue with the iPad though, not a scratch or a crack or issues with the screen. Nothing. This tough, American-made case truly protects it.
One thing to note is that the case does have an attachment port on the back. This supports a twist-and-lock feature to securely fit a variety of interchangeable accessories: stand holder, windshield mount, bike mount, headrest mount, hand strap, and more. If you have need of those things, I'm sure it's a convenient option. Without them though, the attachment port just leaves a raised section of the case. It's not a huge deal--it doesn't make it wobble or become unstable, but it also doesn't sit flat. My main issue with it is that between the raised port and the slipperiness of the polycarbonate, the tablet easily slides across the counter and table. It's not something that would keep me from buying the case, but I wanted to point it out.
Something that I was impressed with is the patent-pending audio technology that redirects the sound to the front of the device to provide an enhanced audio experience. No more do I have to flip the iPad over when listening to music to get the most volume or have the sound directing away while watching a video. It's the details like that that make this a quality case.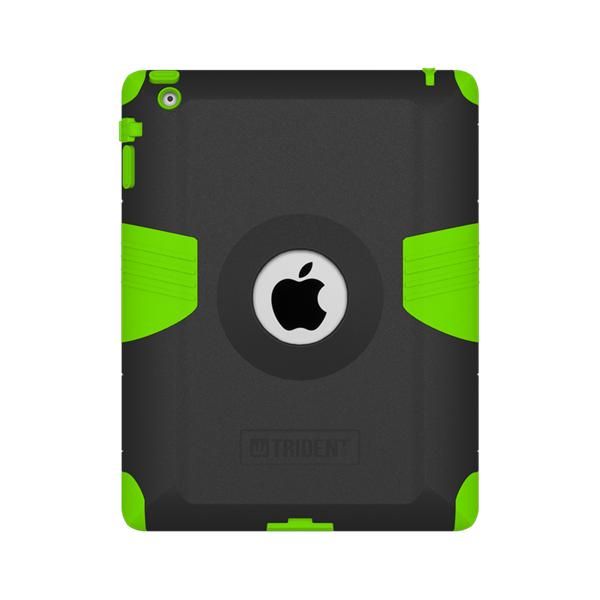 I love that I don't have to worry about the kids using the iPad with this case on it. Even seeing my 2-year-old walking around with it doesn't make me flinch. I am confident that this case will keep it protected. Even if you don't have little ones, this case is great for all ages.
This case can be purchased from the
Trident Case website
for $69.95 with free standard shipping to the United States and Canada.