Our schooling is very literature-based. Our family loves read-alouds. I've mentioned dozens of times how the kiddos will sit and listen to various novels for hours on end. I love reading them quality literature and sharing that time with them. Not only does it teach them life lessons, it also introduces them to new vocabulary. The only problem is that I don't always have the time to spend the day reading. (Sometimes life just isn't fair, ha.) We love to incorporate audio books and dramas into our days. Whether we're folding clothes, driving in the van, or just needing some downtime, audio books are perfect. This one
is no exception.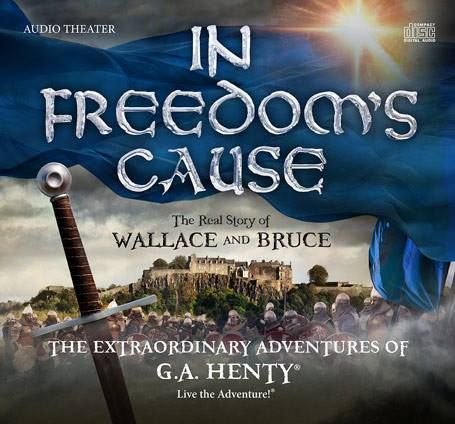 In Freedom's Cause
is a theater-quality production based on the novel with the same name, written by G.A.Henty. Every time the CD started playing when we'd listen to another portion, Tyler (2) asked to turn on the television so he could watch it. Between the music, the quality of the actors reading the lines, and the background sounds (wind blowing, cannons firing, birds chirping, keys jingling, fire crackling, etc.), it sounds like a movie production, and a good one at that. It's easy to visualize the scenes: horses galloping the countryside, men engaged in sword fights, people battling for their lives. The boys and I were immediately pulled into the story. Alyssa, on the other hand, was convinced she wasn't going to like the story. She quickly changed her mind a few minutes in when she asked, "There's a girl in this? I didn't know there were girls!" It doesn't take much for my girl with four brothers to be happy.
This story relates what really happened with William Wallace and Robert the Bruce as seen from the life of Ned Forbes. Ned learns the true cause of his father's death, watches firsthand as Wallace inspires his countrymen to stand up against the mightiest military force, depends on God to guide him, experiences a goat woo (lots of laughs all around!), falls in love with an unlikely woman, and takes part in the history of gaining Scotland's freedom. The story is action-packed and full of adventure.
This project was so important to the audio team (which includes some pretty
popular actors
) that they actually traveled to Scotland to walk where the characters walked in order to capture the essence of the story. Their passion is heard in the voices and the quality of the work. It's easy to get caught up in the story. In fact, every time we'd listen, my little ones would walk around speaking in a Scottish accent, haha.
In Freedom's Cause
single package costs $29.95 (+ shipping and handling). Along with the 2-CD set, you will receive 3 bonuses:
In Freedom's Cause Study Guide (digital download) -- This complete guide is used to enhance your learning and complement your study. Each section, which correlates to the tracks on the CDs, is filled with review questions, ideas to get you thinking deeper, and vocabulary words. There is more information about the history of Scotland, multiple Bible studies that coordinate with the story, and many pictures from the times.
Printable Copy of The Prayer of William Wallace (digital download) -- This beautiful and inspiring prayer is Psalm 23 in the Latin Vulgate. The quality of the copy is high enough that you can simply print, frame, and enjoy.
In Freedom's Cause Soundtrack (MP3 download) -- Our family loves soundtracks. This beautiful music was written by Emmy-winning composer John Campbell (creator of the original score for C.S. Lewis' The Chronicles of Narnia) and is considered some of his best work. We've enjoyed listening to this moving music while doing school, cleaning house, and even now while I type this review!
The audio production is ideal for ages 6-adult, but our entire family enjoyed listening to it. Of course, the little ones didn't quite understand everything, I'm sure, but it's never too early to introduce quality literature. This will be a story that we reference throughout the years.
You can connect with In Freedom's Cause on the following social media sites:
Facebook
Twitter
Google+
Pinterest
If you'd like to see what other homeschool families thought of this production, you can
read more reviews
on the Schoolhouse Review Crew blog.