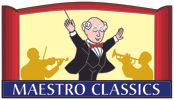 We were excited to receive
Peter and the Wolf
from the
Maestro Classics
stories in music collection.
We are a big music-loving family. My husband majored in music in college and lead both the choir and the congregational singing at church for many years. He and I have both been in multiple singing groups and a traveling handbell choir. (Actually, it was that choir and playing our parts next to each other that brought us together!) It is our desire to give our children a love of good music. One great way of doing that is through
Stories in Music
from Maestro Classics and the London Philharmonic Orchestra. This series, meant for children an families, uses music to tell stories. You can listen to the music from a soundtrack without ever having seen the movie itself and get an idea of the emotions taking place. Music moves you. It reminds me of a day while watching something when my 4-year-old asked, "Why is she mad?" After I explained that she wasn't, he questioned, "Then why does the music sound like that?" Music tells a story.
Bonnie and Stephen Simon understand the importance of music. They want families to be not only entertained by their productions, but also educated. They both have many years of professional experience (to name a few of their numerous accomplishments: Bonnie as the former executive director of the Washington Chamber Symphony at the Kennedy Center in Washington, D.C. and Stephen as the music director of the same organization for 25 years). Now, they work together to create and compose these symphonic works.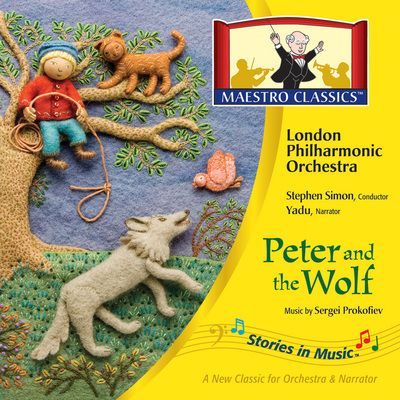 Peter and the Wolf
, written and composed by Sergei Prokofiev, is a well-known story. It's about a boy who has animal friends, doesn't obey his grandfather, and has a run-in with a wolf. Not only is the story beautifully told, but it is described in an easy-to-understand way, as well. The narrator explains that each character is represented by instruments in the symphony orchestra.
Bird = Flute
Duck = Oboe
Cat = Clarinet
Grandfather = Basoon
Wolf = 3 French Horns
Hunters = Woodwinds (marching), Kettle Drums (shooting of guns)
Peter = Strings
Pointing out the individual instruments helps to recognize them throughout the story and makes it fun to follow along. My kids and I enjoyed listening to just the instrumental portions without the verbal story and discussing which character was being highlighted and what kind of attitude was being portrayed. Music is powerful!
There is a section devoted to the composer. Prokofiev grew up in the Russian countryside, where wolves were a real threat. He was the only child of wealthy parents. His father taught him chess while his mother taught him piano. By 9 years of age, he had composed his own opera. At 13, he was the youngest student to be accepted at St. Petersburg Conservatory. By the time he graduated, he was already a published composer. He traveled while preforming his own music and eventually came to America. The critics here claimed that he was "throwing ink at paper," but people still flocked to his performances. He left the US, got married, had children, and returned to Moscow. It was there he was encouraged to compose a story for children. He wrote the story in just one week and composed it the next.
Peter and the Wolf
has been loved by people all over the world. Not only is the musical score enchanting, but the story is one to be admired. It's about a boy who has the courage to face danger and the ability to think quickly to find a solution to his problem. He becomes the hero!
The rest of the CD is full of all sorts of interesting things. There is the entire instrumental story performed in the Russian style, musical terms, descriptions of music as sound effects (rope lowering, wolf's jaw snapping, hunters shooting guns), an explanation from the conductor of the musical theme, more fun Russian music, and other valuable information.
Along with the CD is included a 24-page activity book. It contains biographies, a small portion of sheet music, info about the music, games, and more. This little book is great to teach the kids more about the music, instruments, and people, but I found myself soaking up the information as well. My kids liked the games the best: crack the code, musical question, word search, crossword, matching the instruments, identifying the mouthpieces, and others.
My kids and I listened to this work many times: driving, folding laundry, coloring, or whatever. They enjoyed listening along and learning and reading through the activity book, as well. They've even asked if we could get more. Maestro Classics has other titles such as
Swan Lake
(reviewed by some of y Crewmates),
Casey at the Bat
,
The Tortoise and the Hare
, and more. They have fun things on their website like games and coloring pages as part of their Kids Club and offer in-dept curriculum guides that accompany specific titles. If you'd like to give your family the love of music, I suggest heading over to listen to some samples. We've been impressed with the
Stories in Music
.
You can connect with Maetro Classics on the following social media sites:
Facebook
Twitter
Pinterest
YouTube
You can
read more reviews
of this title or reviews of Swan Lake on the Schoolhouse Review Crew blog.