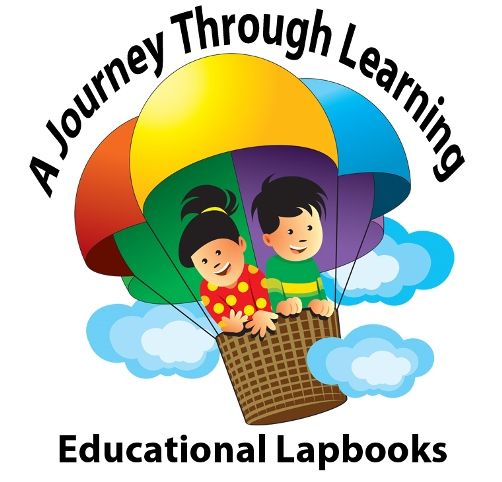 I often to refer to my kiddos as little inventors. They love to create new things, whether they use Lego pieces or bits of odds and ends found around the house. We go through a lot of tape, string, and rubber bands, and I find various projects in different stages all across the house. They're always explaining new inventions to me. In that sense, they are so much like their daddy. Probably my favorite thing that he's created is a motorized wagon with benches that he designed from an old wheel chair. It's the perfect convenience when we spend a day trip at places like zoos and museums. It draws attention everywhere we go, and I feel so much pride when people stop to ask questions and praise his invention.
Because of that creative gene and their curiosity, I knew my kids would enjoy a study of
The Greatest Inventors
from
A Journey Through Learning Lapbooks
.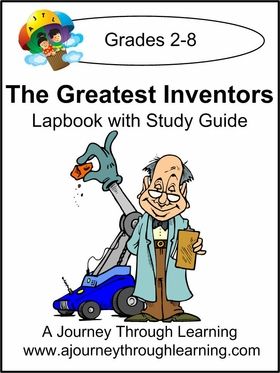 A Journey Through Learning was started by two homeschooling moms. When they commented that there was a lack of quality, hands-on materials that covered fun topics, their husbands encouraged them to start their own business. Over the course of the last 10 years, they experienced some early struggles and a devastating event, created many products, won multiple awards, and have built a thriving company. While their passion is lapbooks, they also offer
unit studies
,
notebooking pages
, and
copywork pages
.
Lapbooks are a fun, hands-on way of learning and recording information. Each lapbook is focused on a topic of study and then filled with various mini-booklets of key information. They do require a little work, as there is printing, cutting, folding, gluing, writing, and whatnot involved, but the process is fun and helps to cement the information in the student's mind. Plus, it serves as a great refresher later on as the student flips through and remembers the information. These lapbooks from A Journey Through Learning are designed to be as simple to use as possible. They even have
various videos
that describe what they are and how to set them up.
The first many pages of the download are filled with the how-tos of the book. There's a list of supplies, the assembly of the book, tips and tricks, picture diagrams, and more. The rest of the 67-page book is the study guide and mini-booklet patterns. The format is such that there is a study guide page for an inventor, and then there is the accompanying pattern pages for that inventor for the lapbook immediately afterward. This setup makes it super easy to find what you need.
Another aspect of this book that makes it simple to use is that there are diagrams at the top of every pattern page to show you exactly where the mini-booklet is placed in the lapbook. There is also a full diagram of the whole lapbook in the beginning pages of the book, but these small diagrams throughout are very helpful as you're working your way through the material. I did find one mistake though. The mini diagram lists the Guglielmo/Marconi booklet as being in folder one, but the main diagram shows folder two. Since we already had another inventor in that spot in folder one, when we got to that, all we had to do was check the main diagram in the beginning of the book.
Just as I assumed, my kids enjoyed learning about the various inventors and their creations. The material is not a full-blown description of each person's life, but just a brief summary with an overview and tidbits of information. Some of the study guide feels a little disjointed. For instance, they list some of the events in Marconi's life, mention his death, and then immediately talk about when he was drafted in the Italian Army, his service there, and more of his life.
You can choose to use the study guide as a simple introduction to the inventors, or you can use it as a springboard for further study. Since we've been on a summer schedule, this was the perfect amount of work for a day. The kids and I would read the one-page description of an inventor, make the mini-booklet, and add it to our lapbook. There were a few times when we would look up more information, like a video of a working cotton gin or a picture of an ear phonautograph, but mostly we stuck to the material in the download.
The lapbook itself is more basic than other lapbooks we've created. There aren't spinning parts or detailed features. Instead, these are simple and can be created quickly. Everything is printed on plain, white printer paper, so there's no swapping paper for colored or cardstock. I think both versions have their advantages, but if you're looking for convenience and ease, A Journey Through Learning is the way to go. There are also easy-to-understand directions at the top of every pattern page that explain what needs to be done for the mini-booklets.
I think
The Greatest Inventors
was a perfect summer study and definitely plan to incorporate more lapbooks from
A Journey Through Learning
in our schooling.
You can connect with A Journey Through Learning Lapbooks on the following social media sites:
You can
read more reviews
of this lapbook an of some of the other products offered by A Journey Through Learning on the Homeschool Review Crew blog.