A wonderful thing about the ages of my kids is that you can make anything a game. Picking up toys? Play Beat the Timer -- game! Putting away random items throughout the house? Play Treasure Hunt and drop off the things where they belong -- game! Learning cultural facts? Play
Wise Alec Civilize This!
-- game!

This game can be used as an expansion pack for the original Wise Alec game or it can be a stand-alone travel game. (
Griddly Games
also sells
Wise Alec: Nature Nuts
and
Wise Alec: Sports Buffs.
) It is intended for children 8 and up, but I played it with my 5-year-old and 3-year-old since that's what I've got. (I thought about renting 8 and 10-year-olds for the review, but my hubby wasn't fond of that idea.) The game was a bit advanced for my young ones.
According to the directions printed on the inside of the box and found
here
, you roll the die and answer the question on the back of the corresponding color card. There is an easy question (worth 3 points) and a hard question (worth 7 points.) You decided what makes the winner: the first one to 50 points, whoever has the most points in twenty minutes, or whatever else you decide. I was impressed that the box also has suggestions for making the game fair for multiple ages, like the older players need more points to win or all questions are equal points but the older players answer the harder questions, etc.
To little kids, measly points don't mean much, so we played for keeps. If you answered the question correctly, you got to keep the card. If Jake didn't know the answer after hearing the question, he got clues until he answered correctly . . . or until I ran out of clue ideas. If he got the right answer, he got the card. For Alyssa, looking cute resulted in a card won. (Hey, they tell you to make your own rules!)
Each color of card stands for a different time period along with the Wise Alec cards filled with brain teasers, tongue twisters and more. Here are a few sample questions all answered by my 5-year-old.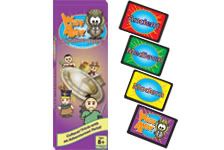 Ancient
(red)
In Ancient Greece, most people did not drink cow milk. What kind of milk did they drink?
"Chocolate!"
Medieval (green) Who defeated the Aztecs in 1519? "The war."
Modern (yellow) Many areas of France are known for making a kind of drink made from grapes. What is it? "Grape juice!" (Yep, he got the card for that one. Better answer than "wine," don't you think?)
Wise Alec
(purple)
Oops! You gave your friend in China a clock for his birthday. -2 points
. "I did? For real?"
The game contains 1 multicolored die, 3 decks of trivia cards, 1 deck of Wise Alec™ cards. It all comes packaged nicely in a small box with a magnetic closure. It retails for approximately $15.00. A list of retailers can be found
here
.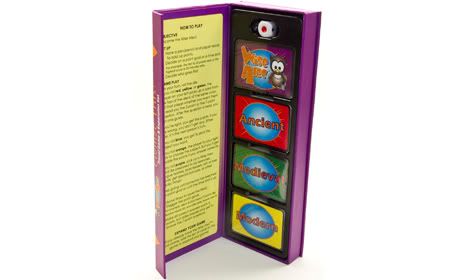 What I don't like is that the dividers for the cards are just big enough to contain them all, and that is when they are newly packaged. After they've been opened and used a few times, as with any cards, they expand and bend and require more room. The card pile ends up bigger than the holder. It's difficult to use while actually traveling. Leighton and I took it with us when we went away by ourselves a few weeks ago. It was fun just answering the trivia questions without truly playing the game. (Besides, I think he may have won if we were actually keeping score!)
All in all, we had fun with the game. It's full of cultural trivia that we'll use for years to come.
But if the 1-year-old gets the box and opens it before you can get to him, it's not pretty. Trust me.
I was given one game of Wise Alec Civilize This! for free in exchange for my honest review. All opinions are my own.