Are you looking for an online
math game for kids
? One that teaches math facts while making learning fun? Then you should check out
Math Rider
, created by a software architect originally for his own two kids.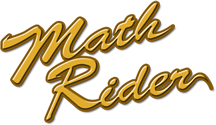 Math Rider is an innovative computer game geared toward kids 6-12 years old. It teaches math facts for addition, subtraction, multiplication, and division for numbers 1-12. Each operation has 4 difficulty levels to master. For each level, the student is sent on a quest to complete. As the student takes off on the quest riding his horse, he is drilled with math equations that appear on the screen. As the equation is answered, the horse jumps over the hurdles. The horse will slow down or speed up depending on how quickly the student is answering the questions. Wrong answers result in more review of that particular equation. After each leg of the quest, 30 equations, the student's progress is shown on the map, allowing him to see how much farther he has to go before completion.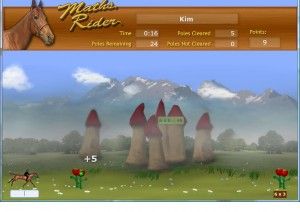 Jacob (6 yr) enjoyed the easy level of addition. Because of the feeling of urgency to answer faster, ride faster, he had a hard time reading the equation himself off the screen. I would read him the equation and he would type the answer and hit enter. He loved checking the map and seeing how far he had ridden. Once he had completed the quest for the easy level, he moved on to the next. He tried once and did not want to play after that. The easy level drills numbers 1-5. The medium level drills numbers 1-10. It was intimidating to him to immediately jump to adding 9+9 and 7+8. Add in that urgency to hurry, and he no longer wanted to play. And he wouldn't replay the easy level because it was the exact same story for the same quest.
I do believe that it's a good program for reviewing the facts. I'm sure if he would have played more it would have gotten easier for him. He is not one that handles mistakes well though. I think it would be great to revisit the game in a year or so when he is more confident with the bigger numbers.
You can
purchase your copy
of Math Rider for $37 until February 15. After that, the price will return to $47. They also offer a 30 day money back guarantee should you not totally love it and even a
free 7 day trial
. It can be installed on 3 computers and up to 8 different riders. It also has a statistics section where the parent can see the assessment of the child.
You can read more Crew reviews of Math Rider
HERE
.
* I was given a temporary copy of this game in exchange for my honest review. All opinions are my own.