We just can't get enough science around here! This time, we had the opportunity to review 2 DVDs from Library & Educational services. They are a small family company located right here in Michigan. As a wholesale distributor for the past 35 years, they offer 30% - 70% off all items every day. (That's my kind of place to shop!) The products they sell are "carefully selected to ensure they are in harmony with Christian values and morals." Of course, these DVDs are no exception as they are part of their evolution-free science resources.

The
Go Science DVDs
are filled with the high-energy demonstrations of
Ben Roy
. Their website says "Ben captivates, motivates, and inspires students to be excited about science, while providing effective instruction based on science phenomena. Each spectacular demonstration of physical or chemical science has a spiritual application and points to our Creator!" And I couldn't agree more!
The 6 DVD set shows a total of 67 demonstrations, each demo being 3-6 minutes long. The videos are fast-paced and fun and kept the attention of my children (ages 6, 4, 2.) These episodes originally were recorded for a religious television show and were taped in front of a live audience of children.
We received volume 2: Simple Machines, Sound, & Weather. It includes the following demonstrations:
1st Class Lever
2nd Class Lever
3rd Class Lever
Incline Plane
Pulleys
Trebuchet
Singing Glasses
Singing Rods
Sound Waves
Singing Pipes
Making A Cloud
Weather Balloon
Tornado Tube
Air Pressure
"Every time we learn something about science, we learn
something about our Creator God!"
We also watched volume 3: Magnetism, Electricity, Engineering, & Design. It shows these demonstrations: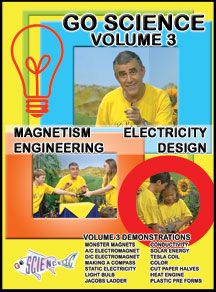 These were a lot of fun to watch! They're geared toward kids 6-14, but I definitely think they're more fitting for the younger crowd. The demos were a little too short, not including enough "whys" for my science-loving 6 year old, but were perfect for my I-just-want-to-be-wowed 4 year old. Each DVD individually is $8.97 (retail $14.95) and the 6 DVD set is $47.95 (retail $79.95.)
To read more reviews of Go Science and Library & Educational Services, head over the the
Crew blog.
*Disclaimer: I was given these dvds in exchange for my honest review. All opinions are my own.