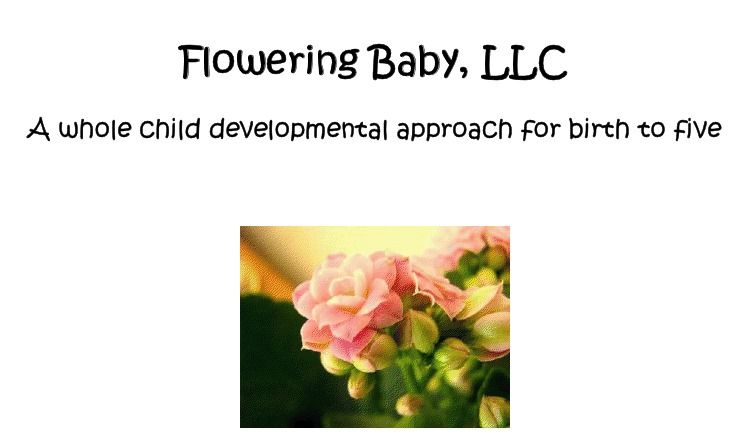 Young kids are inquisitive and love to learn. Each new experience is exciting; each day an adventure. As a parent, especially a homeschooling parent, I try to give my kids many rich experiences now, while they're young. I believe that giving them a good educational foundation will encourage a lifetime of learning. I've said many times that to me homeschooling is a way of life. It's not setting aside x-amount of time to do school, but is a continual learning process. It's not solely about math and history, but is also about learning valuable life skills.
That's why I like
Flowering Baby
. It's a whole-child developmental approach for learning. What's really exciting is that they offer curriculum for birth through age 5. It is designed by year and broken down by month and can be started at any point at any time.
Birth to One Year
I've had people ask me when I start teaching my kids. My answer? From birth! Really, you do it too. Babies are learning all the time.
When I cry, mama picks me up. When I open my mouth, food comes in. When I throw my toy on the floor, daddy picks it up. When I squeal, my siblings laugh
. Cause and effect. The Flowering Baby curriculum helps the parent have an intentional plan to teach baby. Working with your baby for 20 minutes a day, 20 days of the month can greatly increase his learning.
With Tyler, we used the 9-12 month portion of the program. Some days just he and I worked on an activity, but most of the time the older kids played along with us. We played games like stacking blocks, banging on boxes, pushing cars across the floor, standing, and carrying on "conversations." Sure, they are all simple things to us, but to a tiny baby, they are learning experiences. They listen to sounds, strengthen muscles, practice balancing, and so much more. They also learn how much fun it is to play and hear everyone clap and cheer! Each day there is also a building of the arts, whether it be listening to Classical music, reading a book, or singing a song.
Click here for a sample of the Birth to One Year curriculum
.
Three to Four
The 3-year-olds' curriculum looks a little more like school with things like math (counting, patterns), language (ABCs, sounds), and science (weather, nutrition.) There is also teaching about community helpers, safety issues, self-help abilities, Spanish, social skills, physical activities, and so on. Like the Birth to One Year, there is also time for listening to music, singing, and reading.
A typical day might include singing the ABC song, counting toys in a pile, coloring, reading, and listening to music while completing another task. Some days, especially ones that involve discussions or games will take much longer to accomplish. Overall, the curriculum suggests 30-45 minutes a day, 10-15 days a month purposely teaching your child.
Along with the general monthly guides, there are 25 theme guides as well. These are designed to complete 2 themes a month and to encourage the child's intrigue of topics by delving into more detail for an extended period of time. There are book and activity suggestions included for each theme.
Zac was so excited to have his own list of things for school. Usually, I just grab a few hands-on things for him to do or allow him to play school games on the iPad while I'm working with the older two. I haven't spent much one-on-one time with him, specifically to do school. Unfortunately, when the baby wakes up, or the 7-year-old is dragging, or dinner needs to be prepared, or, or, or, . . . the poor 3-year-old is the first to get left out of school. I was reminded just how important it is to purposely include him and just how much he loves it. For instance, we played a game where you take a toy (or any object really) and cover all but a tiny portion with a blanket. Then, the other person has to guess what's under the blanket. He loved it! We've played so many times since then. He'll say. "Let's hide toys again!" Not only does it get his little brain working, it gives us precious time spent together. I have a renewed dedication again to intentionally teach him.
Click here for a sample of the Three to Four curriculum
.
Four to Five
The curriculum for the four-year-old is similar to the three-four group. It starts with the same basic monthly guide of 30-45 minutes a day, 10-15 days a month working with your child. It uses the same theme guide as well. The difference? The skills required are more advanced; the content learned, more difficult. The child will begin writing letters & numbers, counting to 50, sounding out letters, completing simple science experiments, and more. There is still an emphasis on singing, reading, listening to music, and playing.
A typical day might look something like this: Sing the ABC song, practice writing the letter
J J
, look for items that start with
J
, count to 30, put together 2 puzzles, read a book about triangles, draw triangles on paper and cut them out, build a pyramid using blocks, discuss the difference between a 2-D triangle and a 3-dimensional one, practice kicking different kinds of balls with each foot.
Alyssa loves school. She loves learning. She loves doing work. She soaked up each activity from this curriculum that I presented to her. In fact, if I hadn't yet started working with her during the day, she'd say, "I thought we were going to practice writing
O
s?" Yep, she's my little schoolgirl. Most of the things in the curriculum were already very familiar to her since I've been working with her for a while. We learn best through repetition, so it was all very good practice for her. Also, children learn best through play and hands-on activities, which are abundant with this program.
Click here for a sample of the Four to Five c urriculum
.
What do we think of Flowering Baby?
We love it! It's a thorough program that can be accomplished multiple times a week. All the activities and resources are listed, making it very easy to schedule a day. If the child is feeling overwhelmed by the work, simply leave out portions to make it more manageable. The program builds on itself, giving your child a solid foundation for school. I really like that the Three to Four schedule mirrored the Four to Five for things like books, music, themes and such since it made it much more doable when using this program with 3 kids. We
all
tend to do activities and book reading together, so having the curriculum the same saved us some time because of the overlapping. I really like that it has a strong literature base. Some of the books on the list we own, some were found at the library, and others can be read for free online. The program uses household items and typical children's toys, so you don't have to buy any special materials to complete it. Simply use the things you have around your house.
Flowering Baby is
sold on CD and is in PDF format
. (There is also a
link on their site
to purchase it online and immediately start downloading the program.) The yearly plans for birth-1, 1-2, and 2-3 cost $30, and the plans for 3-4 and 4-5 cost $38 a piece. Or you can purchase all 5 years for $132. The author has also graciously offered a 10% discount to our readers. Simply use
Blog10
at checkout
on floweringbaby.com.

Disclaimer: As a member of the Schoolhouse Review Crew, I received the entire Flowering Baby curriculum in exchange for my honest review. No other compensation was given.