I am always bringing home new books for the kids. Books I bought at a garage sale, books I found at Salvation Army, books someone gave us. Books, books. books. My philosophy is that you can never have too many books. My husband teases me about it, and I just tease him that he needs to build me more bookcases, ha. With all these choices of reading material, it's easy to read a different book every day for the next 2 years. No, I am not exaggerating.
All of that to say that in order for my kids to request a single book over and over again means that they really, really like it.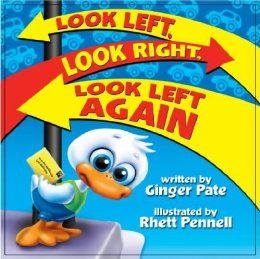 This colorful board book, written by Ginger Pate and illustrated by Rhett Ransom Pennell, tells the tale of Wally Waddlewater learning to cross the street safely. He wants to mail a card to his grandma, but doesn't realize the dangers that are involved. Mama Waddlewater helps him on his journey across town to the mailbox. As each new obstacle arises, she reminds, "Look left, look right, make sure the _____ are out of sight. Remember then: look left again."
The fun rhyme, the cute cartoons, the silly story, and the catchy onomatopoeia make this story one that the kids love. They didn't understand at first why they should look left twice, though. Why not look right first, then left? I grabbed some play cars and a couple toy people and set it up like the book. They saw how we drive on the right side of the road, so when we cross, the closest cars are coming from the left. It made sense then, and they had fun acting out the story.
More than just the book though, I am impressed with Greene Bark Press. Their philosophy is that "the key to reading and language comprehension is the printed book." For kids to retain and understand new words and concepts at a rate in order to be successful, they need good imaginative books readily available. (See, honey, I need more bookcases!) The company sells only books they feel are imaginative, colorful, and have some value to add to the growth and learning process of young readers. They also offer products from manufacturers whose materials meet those same standards, including Melissa & Doug and International Playthings.
Look Left, Look Right, Look Left Again costs $8.50 and is meant for ages 3-8. I knew my 1, 3, and 5-year-old would love the book, but was a little skeptical of my 7-year-old wanting to read it multiple times. Boy, was I wrong! He rushed right over each time I opened it up to read, and he even read it a couple times to his siblings himself. This book is a good teaching tool for road safety and traffic awareness. When we cross the street now, whether on foot or on bike, we recite the saying, look left, look right, look left again. It makes is more fun and a better reminder than just saying "make sure to look both ways."
Wally Waddlewater learned to cross the road safely, and he can help your child, too.
As always, you can
read more reviews
of this book from my crew mates on the Schoolhouse Review Crew.