Our family loves to read together. The kids will sit and listen to me read just about any kind of book. For hours. So to tell you that they enjoyed reviewing this book from
Barbour Publishing
wouldn't really be saying much. But what if I told you that they begged me to read it every day and would plead for "one more chapter" each time I ended one? Or how about if I mentioned that they told me the book was "awesome!" at least 20 times? Or what if I said that they asked to read the whole thing again as soon as I finished it? Yeah, maybe then you'd understand how much they loved reading
Diary of a Real Payne Book 1: True Story
.
This fiction book is all about a 10-year-old 4th grader, Emma Jean, or EJ as she likes to be called. She lives in a "boring" town that is too little for her big ideas. EJ is a dreamer. She dreams that she's a race car driver in a big race, a dolphin trainer putting on a show, and a private eye about to solve a case. It's these big dreams that often get her in trouble, like the time she was a hair dresser and got carried away with the scissors on her little brother's hair!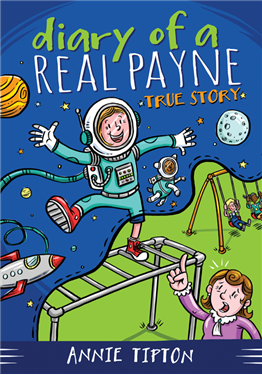 Each chapter starts with a journal entry written by EJ. The language is typical 10-year-old-talk. She's honest and sincere, frustrated and excited. It's like getting a peak of her innermost thoughts. After the journal, the story is told from a narration point of view. EJ's dad is a pastor, her mom teaches at the elementary school, and her little "space invader" brother is in kindergarten. There's also the eccentric neighbor, the best friend, the better-than-you girl in class, and the misunderstood man down the street.
The journal portion really makes the story more personal. You find yourself liking who she likes and being annoyed with those who are mean to her. EJ's daydreams are always exciting and portray the fun that can be had in everyday situations. Like a typical child, she doesn't always have a good attitude, but she does have a good heart. There are many teaching moments woven throughout the book.
The majority of the book had us all (yes, me too!) giggling and laughing, but the end was not what I was expecting. It was so moving that I got teary-eyed and my voice caught in my throat. I thought, This is so silly. I can't cry during this fun, happy book! The ending was touching, not in a corny way, but a there-are-still-good-people-in-this-world way.
The book is great for kids ages 8-12, but I read it aloud to my 7, 5, and 3-year-old. They fell in love with EJ's character and often talk about her and her antics throughout the day. The informed me half-way through the book that we
have to
get book 2,
Church Camp Chaos
, when it comes out next March. Seriously, they've asked at least 5 times since then if it's March yet!
Annie Tipton
is a great writer and has produced some dedicated readers. We will definitely be buying more books to read how EJ's adventures continue.
Diary of a Real Payne Book 1: True Story
can be
purchased for $5.99
, however, everything on the Barbour Publishing site is currently 25% off! You can also
read a chapter
and see for yourself just how endearing EJ truly is.