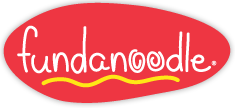 I was very excited to be chosen to review one of the products from
Fundanoodle
. With a name that starts with
fun
, you know it's going to be enjoyable for the little ones, right? There are so many fun options that it was hard to choose one that we most wanted. Since the older kids kids often receive school products and curriculum geared specifically for them, I knew Zac (3 years) would appreciate getting his very own "school" activity. I chose the
I Can Pound! activity block
.
Contents include:
1 foam block (14" x 10" x 2")
1 hammer
50 pounding tees
30 activity pattern sheets
I knew that Zac would love having his own tools and place to create, just like his daddy. I knew that he would love pounding in those nails with his special hammer. I knew he would have lots of fun with his own school task. But this kit serves a purpose more than just fun. Not only does it increase creativity, it helps improve hand stability, paper stabilization, and hand-eye coordination.
The child places the block in front of him, choose one of the pictures, hold it on the block, and pounds in the nails on the dots on the paper, while working on his motor skills. Since the block is made of foam, the nails slide in easily and without making much sound. He can then flip the hammer over and use it to remove the nails again.
All 3 of our kids (7, 5, 3) enjoyed using this. Well, let me correct myself, all 4 of our kids enjoyed using this. There is a reason the kit if meant for kids ages 3+. One day after the older ones finished creating masterpieces, they left all the materials sitting out. Tyler, their 18-month-old little brother, decided it looked like so much fun, that he just had to try it out for himself. How do I know he "played" with it? I found chunks of foam around the house and little bite marks all across the block. Trust me, reserve this set for the I-know-better-than-to-put-this-in-my-mouth crowd.
If your child loves the set as much as mine do, he'd quickly pound his way through the 30 activity pages that are included in the box. Not to worry though, you can freely
download extra pounding pages
on their site. (My kids even enjoyed pounding on plain paper and directly on the foam to create their own designs.) I had a question about the extra pages and contacted the company. I received a response almost immediately. The employee was very friendly and helpful. We corresponded back and forth a few times, and each time, was very prompt. I am very please with their great customer service. The only negative that I have with this product is that once it is filled with holes, the foam can no longer be used. Now granted, that will take a while to fill. Thankfully, they sell replacement blocks for $9.99 so your child can continue to practice and strengthen skills.
The I Can Pound! activity set costs $29.99 and is part of their orange group (ages 3+/preschool.) Some of the other options in that group include I Can Doodle; I Can Bead, Lace, Rip and Trace; and I Can Do Math. There are many great products all the way through the second grade level. From what I know of this set and what I've seen of the others, I know that my kids would enjoy everything from this company.
My crew mates had the opportunity to try many of the fun products from Fundanoodle. You can
read those reviews
on the Schoolhouse Review Crew blog.