My little ones love when they can do school on the computer. It always feels more like a game than work. They've been pleased to have a subscription to review
IXL
the last few weeks. While the site does offer
language arts
for 2-4 grades, we used the
math section.

IXL is a math review site for Pre-K through algebra. It is broken into sections for each grade level. Each grade is then divided into different skills. Jake (7) practiced using the third grade level, Alyssa (5) reviewed the kindergarten part, and Zac (3) had fun with the pre-k questions.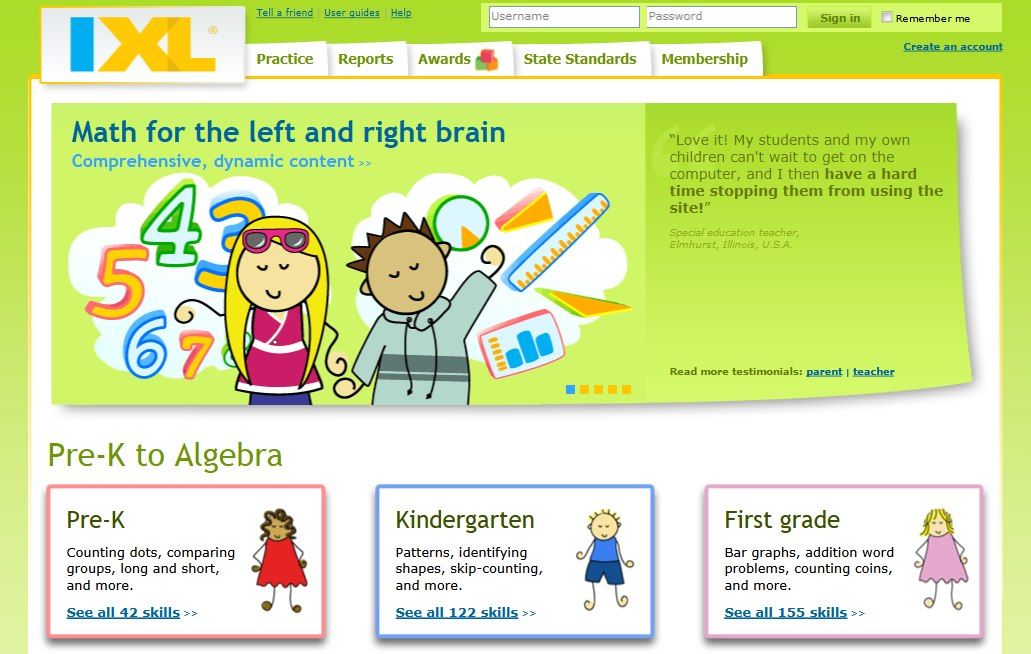 I sat at the computer with Zac when it was his turn to practice. I read the questions for them and clicked the answers he chose. The program is set up so that the parent does not have to help though. There is a little volume button that the child can press and it will read the question to him. Another thing that is helpful is that you don't have to click directly on the circle to choose an answer, but instead can click in the general vicinity and the answer will be selected. That makes it easier for the child who has a hard time controlling the mouse.

Both Jake and Alyssa completed their sections daily by themselves. Of course, there were some skills they needed my help, but they mostly did it on their own. The site is easy to navigate. The student can see which skills he has completed and which are new. Jake especially liked wandering into higher levels like variable expressions in 7th grade and parabolas in algebra II.

There are 42 skills for pre-k, 127 skills for kindergarten, and 230 skills for third grade, so the student can practice a long time before ever getting bored or even seeing all the questions. Also, the questions will increase in difficulty as the student improves.

IXL tracks the student's progress. There is a section on the site where the parent can see exactly how the children are preforming, what skills they practiced, and even where their trouble spots are. If gets specific enough that you can see the exact questions they answered incorrectly. You can also get email updates to keep you informed. There's also a way for the student to keep track of his own progress. As he answers questions and advances skills, an award will show on his board. My kids all loved finding the star and clicking on it to see what they "won." They also liked comparing their awards to their siblings' and got excited for each other.
IXL memberships
start at $9.95 a month for the math levels (plus $2 each addition child) and $79 a year (plus $20 each additional child.) Benefits include:
Comprehensive coverage of K–12 math curriculum.
Interactive language arts exercises for grades 2–4.
Unlimited questions in over 2,000 skills.
Fun and colorful practice formats.
Questions that adapt to your child's ability, increasing in difficulty as they improve.
Immediate feedback and question-specific explanations to solidify understanding of each concept.
Audio for all pre-K to first-grade math skills.
Weekly e-mail updates on your child's progress.
Informative, detailed reports pointing out successes and trouble spots.
Awards and certificates for you and your children to print out as they reach important milestones.

iPad app for mobile math practice.
My kids ask every day if it's time for their computer school. They enjoy doing math and they're their improving at it. I'd say it's working out well.


If you like to see how IXL is working for other families, click over to
read more reviews
from the Schoolhouse Crew.