History was never a subject that I liked in school. My mom would watch historical documentaries, and I'd find it incredibly boring. As I've gotten older though, I've come to appreciate history and learning about the past. Now, I, too, will watch the "boring" documentaries. I'm thankful that Jake, my oldest, already loves history. Biographies are his favorite books to read. He loves learning about the past and soaks up that knowledge. When we had the opportunity to review a history program from
Veritas Press
, I knew he'd be excited. And since he's fascinated by all things Egypt, I chose
Veritas Press Self-Paced History: Old Testament and Ancient Egypt
.
Other than the
Old Testament and Ancient Egypt Flashcards
, the entire program (for grades 2nd-6th) is online. While watching the tutorial for how to use the program, I started to get a little nervous, wondering how complicated this was going to be to use with my 8-year-old. He started the first lesson, and I realized it was so simple. It did take me a few days to remember how to get to his next lessons, because there are a few different steps and clicks of the mouse we'd have to take, but after that it was fine.
The lessons start at the beginning with Creation and end with Egypt falling to the Roman empire. The lessons are done in a slideshow format. Jake loves telling me at the beginning of each lesson how many slides there are and is disappointed when there are only a few. The material is taught by characters in period dress and names. The Great Sphinx is definitely his favorite. A talking, animated Sphinx who does silly things, like wearing sunglasses, is sure to get the kids' attention and a few laughs. I thought Jake might think it was a little bit corny, but he loves it.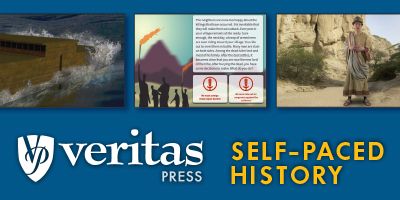 There is a song in the lessons that teaches the major events of the period:
Creation
The Fall in the Garden
Cain and Abel
The Flood
Tower of Babel
Unification of Upper and Lower Egypt
The Old Kingdom in Egypt
First Intermediate Period in Egypt
and 24 more!
I admit, when I heard it, I thought,
There's no way he's going to memorize this. It's got all these big words, and it's a long song. And it doesn't even rhyme!
Uh huh. The song is one of his favorite parts about the program. He sings along with it every day and even has most of it memorized. I stand corrected. And what's worse? It's so catchy after a few times that it gets stuck going through my head and I find myself singing it at random times. So, 2 things I thought might not go over well with my child are actually 2 of his favorite parts of using this. Go figure.
His third favorite thing that he mentioned to me is that he can complete as many lessons as he wants. Since it is self-paced, he often finishes one lesson and immediately moves on to the next. Some days he even likes to finish all the lessons for an entire event. When I told my husband about that, he asked, "Yeah, but how much is he learning?" Good question. It's easy to forget things when you're taking in a lot of information all at once. But Jake is eating it up. Like I said, he loves history and Egypt and correlating those 2 with the Bible is a perfect combination. There are quizzes and such along the way to make sure the student is understanding. It even keeps tack of the grade. Jake is currently sitting at a 91%.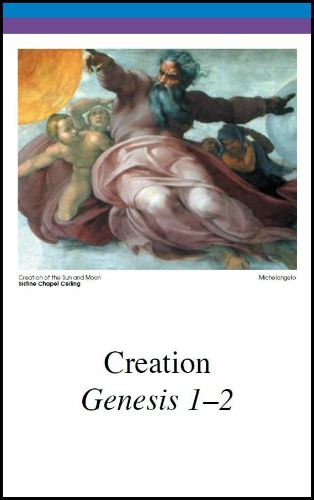 The laminated 5x8" flashcards are used in the lessons. There is a picture and the title on the front and information and books with page numbers for additional resources. Some of the questions correspond directly to the flashcards. Some days Jake uses them a reference; some days he tries to answer from memory. He enjoys looking through the cards and does not like sharing them with his siblings. Most days Alyssa (6) and sometimes Zac (4) will watch the lesson(s) along with him. They laugh at the silly characters, too.
This history program has been a joy to use. Jake can navigate himself through the lessons and is learning so much. Everything that he needs is easy for him to find. Along with the flashcards, there is a section in each of the lessons for attachments, like the memory song lyrics, timelines, and such. I love that the Old Testament is coming even more alive to him. Jake is enjoying this program so much, that he's already told me he wants to move on to the next time period when he's done and eventually complete them all.
The self-paced Old Testament and Ancient Egypt course costs $199.00 and the flashcards cost $19.95. There are also options for literature kits, if you choose to utilize that, as well.
You can connect with Veritas Press on social media:
Facebook
Twitter
Pinterest
Google+
If you're interested in researching the other levels or would like to see more opinions of this one, you can click to
read more reviews
of Veritas Press on the Schoolhouse Review Crew blog.