Do your children like adventure, pirates, and audio books? Do you appreciate captivating entertainment with strong Christian morals? Then this review is for you!
Our family loves read-alouds. I've mentioned dozens of times how the kiddos will sit and listen to various novels for hours on end. I love reading them quality literature and sharing that time with them. Not only does it teach them life lessons, it also introduces them to new vocabulary. The only problem is that I don't always have the time to spend the day reading. (Sometimes life just isn't fair, ha.) We love to incorporate audio books and dramas into our days. Whether we're folding clothes, driving in the van, or just needing some downtime, audio books are perfect. This one from
Heirloom Audio Productions
is no exception.
I made sure to pack
Under Drake's Flag
when we went on vacation a couple weeks ago. Audio books are perfect for passing the time on long road trips, especially with 4 young kids in tow. We decided to head to the Smithsonian National Zoo with Leighton's sister and her family while were were in the area. That morning drive was the perfect time to listen to the approximately 2-hour production.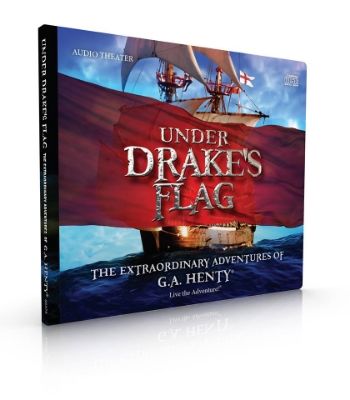 Under Drake's Flag is a theater-quality production based on the novel with the same name, written by G.A.Henty. As soon as the CD started playing, the kids asked to drop down the TVs in the van. Between the music, the quality of the actors reading the lines, and the background sounds (wind blowing, waves crashing, guns firing, birds chirping, etc.), it sounds like a movie production, and a good one at that. It's easy to visualize the scenes: pirates swabbing the deck, fierce storms raging, men fighting for their lives. We were immediately pulled into the story.
Ned Hawkshaw is easily someone that would make little boys jealous. He embarks on a great adventure on the ship of Sir Francis Drake. Along the way, he fights off a shark attack, saves a woman from drowning, survives a shipwreck, engages in fierce battles, and gets caught up in the Spanish Inquisition. He also learns firsthand of the faith of Captain Drake and discovers what it means to truly trust in God. Ned grows from a boy into a man, from a servant into a leader. His faith is tested, but he remains strong. Set in the time of the great naval battles between the English fleet and the Spanish Armada, there is plenty of adventure along the way.
Under Drake's Flag costs $29.95 (+$6.95 shipping and handling). The 2-CD set comes with a convenient study guide pamphlet filled with review questions, ideas to get you thinking deeper, and vocabulary words. Along with the set, you'll also receive 4 free bonuses: MP3 download of the story, the complete e-study guide (much more in depth than the pamphlet), the MP3 soundtrack (contains all original music by Emmy-winning composer John Campbell, who also composed the score for The Chronicles of Narnia), and a beautiful printable copy of Drake's Prayer.
The audio production is ideal for ages 6-adult, but our entire family enjoyed listening to it. Of course, the little ones didn't quite understand everything, I'm sure, but it's never too early to introduce quality literature. This will be a story that we reference throughout the years.
If you'd like to see what other homeschool families thought of this production, you can
read more reviews
at the Schoolhouse Review Crew blog.