Science
and
electronics
. Those two words describe the interests of my oldest child. He is very much like his daddy. They both want to know the
how
s and
why
s of the way things work. Me? I'm just happy to know they work! And while I may not share in their love of understanding all-things science, I do want to encourage my children to pursue their passions and further their learning. It's subjects like this when I'm especially grateful to review online curriculum, like this one from
Visual Learning Systems
. Mixing science and electronics, what could be better?
This multisensory program offers two levels:
Digital Science Online: Elementary Edition (grades K-5)
and the
Secondary Edition (grades 6-12)
. Included in the annual membership is a collection of science videos, clips, animations, images, assessments, student activities, and teacher's guides. Everything needed to teach science is right here in one place. After all, its mission is "to reignite a passion for teaching and learning science."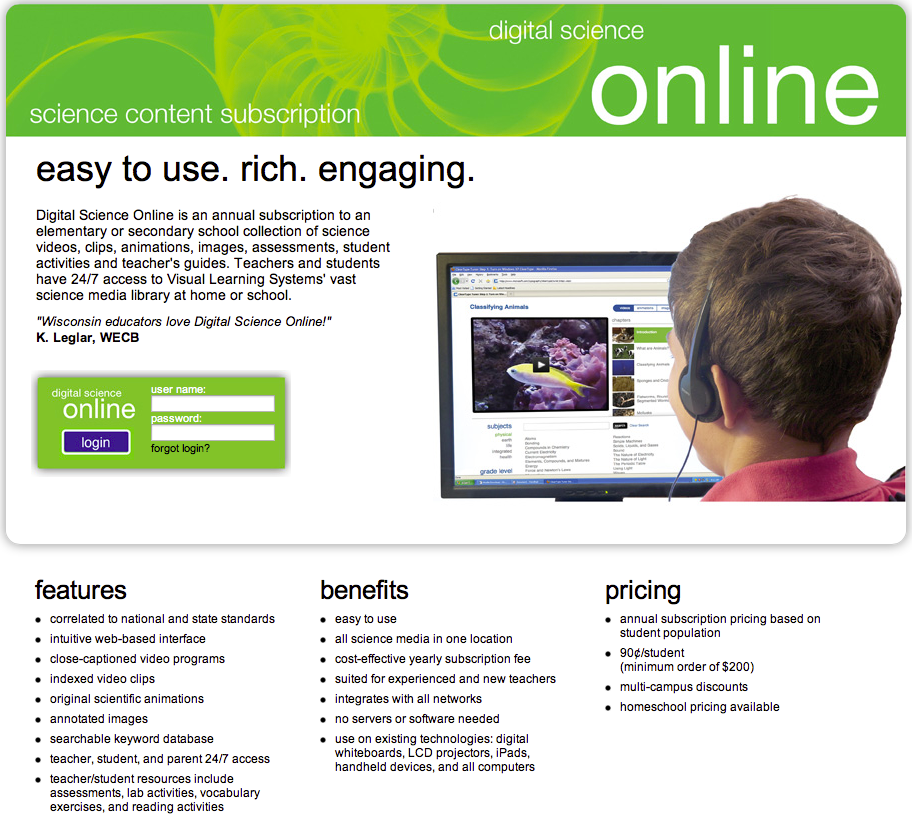 The younger kids participated in some of the course work, primarily watching the videos, but I focused on Jake for this program. Since he is 9 years old, he is using the elementary section. This section is broken down into 3 branches: physical, earth, and life. Within each branch of science is many subtopics.

Physical
Electrical Circuits
Forming Bonds
Investigating Chemical Reactions
Things in Motion
and 17 more
Earth
Exploring Fossils
Reading Maps
Stars and Galaxies
Weathering and Erosion
and 13 more
Life
Blood and Circulation
Exploring Desert Biomes
Food and Digestion
Microscopic Life
and 21 more
The individual videos can be watched all at once or broken into chapters. We've found that the videos are around 15 minutes each. These narrated videos feature original live-action footage, closed-captioning, frequent on-screen questions, repetitious vocabulary, and clear visual cues for understanding. There are also short animations and and still images that accompany each lesson.
The teacher guides are easily accessed from the student's account. These include preliminary and post-tests, laboratory investigations, vocab exercises, and hands-on activities, along with other worksheets.
You can choose to use the program as you wish, but this is how we utilized it. We school 4 days a week. This is the typical schedule Jake followed every day. Since the teacher guides that accompany each lesson vary, his assignments did, as well.
Monday
Choose the subtopic.
Complete the pretest.
Watch the video.
Tuesday
Watch the video.
Complete the Video Review sheet (while watching video).
Complete the Vocabulary sheet.
Wednesday
Watch the video.
Complete one of the remaining worksheets (i.e. writing activity or other).
Thursday
Complete the post-test.
Watch the video to find answers to any incorrect problems.
Complete a hands-on activity.
Jake has been enjoying this program and retaining a lot of information. He's been focusing on the physical topics and has been enjoying learning about things like subatomic particles, the periodic table of elements, and hydraulic systems. One of the hands-on activities that he chose was creating a barometer. He and the other kids gathered the supplies and got to work. Thankfully daddy was home, because they had a difficult time getting the balloon over the can. Daddy to the rescue! Since I was making dinner at the time, he also had the idea to hold the barometer over the steam from my pot to show it in action. See, I told you he was a science guy! We were able to watch the reaction happen quickly, which made it that much easier for the kids to understand.
Visual Learning Systems is a thorough online program for learning science. It has been working well for our family and I see us continuing to use this resource.
If you'd like to see how other families used this program or learn more about the high school level, you can
read more reviews
on the Schoolhouse Review Crew blog. You can also connect with Visual Learning Systems on
Facebook
and
Twitter
.