We are a big literature family. Our schooling consists mostly of reading books and hands-on projects. That's why I was so excited to be reviewing the
Miss Rumphius
downloadable digital study guide from
Progeny Press
.
Progeny Press is a Christian company owned by Michael and Rebecca Gilleland. It is their mission to "teach our children to think clearly, to understand literature, and to rely on the scripture for truth and values, and enjoy themselves while they do it!" They offer more than 100 study guides for classic, popular, and award-winning books. The guides are designed to help students better understand and enjoy literature by getting them to think through the themes and ideas written in the stories. The study guides are available in three formats: a physical book, a CD with a PDF ebook, and a downloadable PDF file.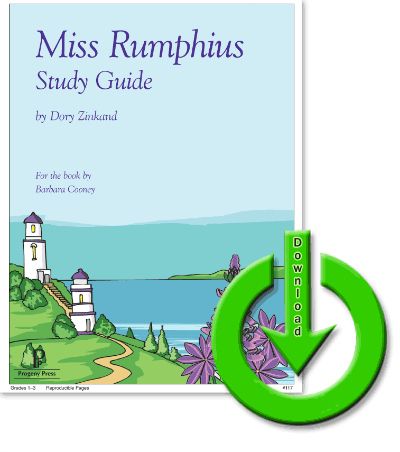 Since we like to incorporate as much as possible as family studies and my children are 9, 7, 5, and 3 years old, I chose
Miss Rumphius
from the lower elementary (K-3rd grade) list.
Miss Rumphius
, written by Barbara Cooney, is a book that I had never read before. It's about a girl that admires her grandfather. Like him, she too wants to travel the world and then live by the sea. He tells her that she must also make the world more beautiful. She grows up and achieves her first two goals. It's not until then that she realizes, quite by accident, how to reach her third goal. She sows lupines everywhere she goes and makes the world more beautiful.
The guide is broken down into sections:
Before-You-Read Study
Before-You-Read Activities
Sections 1: The Child Alice Sets Her Goals
Section 2: Miss Rumphius Travels and Comes Home to Live by the
Section 3: The Lupine Lady Makes the World More Beautiful
After-You-Read Activities
The 45-page guide also includes related resources, answer key, and a brief bio of the author and illustrator.
This study guide is filled with different types of activities. There are questions like
When Alice visits her grandfather in the evenings, how does she honor him?
and
What does Miss Rumphius put in the stony ground near her home by the sea?;
unscrambling names of countries like
Indonesia
and
Kenya,
finding the definitions for vocabulary words like
conservatory
and
cockatoos
by studying them in context, learning plurals of words ending in
f
and
fe
like
half
and
leaf,
and more.

Within the section are also Bible verses that compliment the lessons in the story. The verses are written out in the guide itself, but because a different version from what we read is used, we opted to pull out a KJV and read directly from the Bible. There are also questions that accompany the Bible verses and reinforce the themes.

The kiddos and I would cuddle up together on the couch to read the story and answer the questions aloud. I find that this read-aloud time helps all the children to hear different ideas and gives me the opportunity to ask more questions and to encourage deeper thought. While they greatly enjoyed this time, they especially loved the parts that followed: the projects!

Some of them include planting your own lupines, marking Miss Rumphius' travels on a world map, sampling a fresh coconut, painting of picture of the sea and sky using watercolors, searching for various types of seeds, setting personal goals, learning your heritage by listening to grandparents' stories, creating lupines by using q-tips and paints, volunteering for community work, and more.
Honestly, I have nothing bad to say about this study guide, not even a slight suggestion for improvement. The kids and I enjoyed the story, the question and discussion time, and all the projects. I love how the guides incorporate the Bible and point the readers back to Christ. This study has taken a story and has given it a deeper meaning. Whenever you can apply a lesson, rather than just hear about it, it's much more likely to make a lasting difference.
This study e-guide costs $11.99, and you can
view a sample
on their site. If your kids are younger than the lower elementary age, don't worry, Progeny Press offers study guides through the high school level, as well. We enjoyed this review and look forward to using another study guide from Progeny Press in the future.
If you'd like to
read more reviews
of this study guide or one of the other many options that my crew mates has the opportunity to review, please head to the Schoolhouse Review Crew blog.