The internet is a wonderful tool. we use it almost daily to find recipes, research homeopathic remedies, catch up with friends, shop, and so much more. You can look up pretty much all information that you can possibly think of. While that can be beneficial, it can also be a hindrance. The internet is also destructive and full of horrific things. We have very specific guidelines in place for our children when they use the computer. One of those rules is that they are not allowed to preform their own searches. Too many weird things can be the result of those innocent searches. I am reminded of one time a few years ago. Our oldest child (who is 9 years old now) typed a few simple words directly into the address bar because he "wanted to see what came up." That thinking has the potential of a very bad outcome. If they need to find information, their father or I preform the search, find an appropriate source, and hand it off to the child. Now that our son is older now, I felt it was time to teach him how to safely preform internet searched on his own.
The Critical Thinking Co.
is "committed to developing students' critical thinking skills for better grades, higher test scores, and success in life." They offer many books and curricula to prepare students, like
Surfing the Net: Science
, which is exactly the type of resource we needed to teach our son.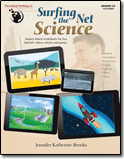 Surfing the Net
uses free, internet resources and reproducible worksheets to teach science concepts to 3-6 graders. It teaches them to research information and broaden their understanding of the web as an information resource. The topics covered in the book include animals, atmosphere, ecosystems & habitats, energy, geology, plants, and space.
Each topic covers critical thinking in the following ways:
Defining: Students use key word searches to gather general information from the internet using text, videos, charts, or images and answer questions.
Describing: Students use key word searches to gather specific information from the internet using text, videos, charts, or images.
Analyzing & Synthesizing: Students used the information they gathered to fill in a graphic organizer and write a paragraph.
Expanding Knowledge: Students collect additional information about something specific about the topic and may write paragraphs about it.
Investigating: Students form their own question and find the answer through additional research.
The first part of each activity begins with a key word search section. For instance, the very first question of the book reads,
Use the key words in each question to find the answers on the Internet
: "Amphibians are ectothermic. How do habitats affect ectothermic animals?" The problem we ran into right away is that there is no help with the key words. Yes, there is a click-through video that the student watches before starting that briefly touches on key words, but that is all. I think it would be so much more beneficial if the key words were written in bold, at least for the first topic or so, to help the student understand key words. The purpose of the book is to
teach
the student to research. Also, there is no information about what types of websites are good for information. Many times, sites that anyone can ask a question and anybody can give a response--whether he knows what he talking about or not--showed in the top list of searches. I had to teach my son what kind of sites are good for information and what kind are untrustworthy. Don't get me wrong, I am very involved in teaching my children these things (I do homeschool, after all), but I think there should be some teaching about that in the book itself or through better training videos.
The remaining questions for the activities direct students to specific URLs to find information. Icons next to the questions easily show what kind of activity is involved.
Honestly, I think the concept of the book is a good one, but I don't believe there is enough in it to actually
teach
the student about searching. Many of the questions sent my son searching all over websites to find specific answers. I was able to direct him to where he could find the answers on the page because I can skim read, whereas he hasn't learned that yet and still reads word-for-word. Even some of the designated URLs had him looking for another link within them to eventually find what he needed. The process was daunting. All in all, it was a frustrating experience for us both. Maybe it would be easier or more appealing to an older child, but, unfortunately, it did not work well for my 9 year old.
You can connect with The Critical Thinking Co. on the following social media sites:
Facebook
Google+
Twitter
Pinterest
If you'd like to see how other homeschool families used this book or one of the other products offered by The Critical Thinking Co., please
read the reviews
on the Schoolouse review Crew blog.