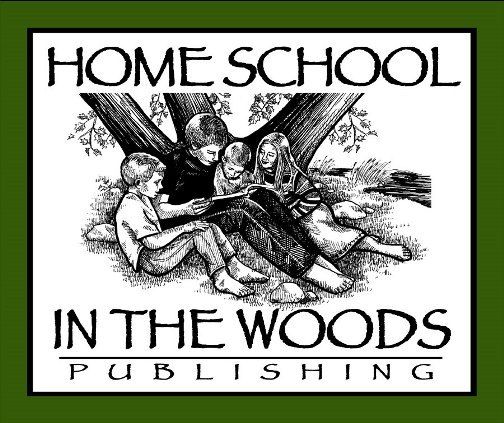 With this being a presidential election year and my husband's interest in politics, there's been conversations around the house about candidates, debates, and whatnot. My kids have been asking questions about the election, so I knew they'd appreciate studying and reviewing
HISTORY Through the Ages Hands-on History Lap-Pak: U.S. Elections
from
Home School in the Woods
.
Home School in the Woods is a family business that was started as a way to make history real, understandable, and applicable. Using timelines and realistic illustrations as a foundation, they've created many resources to make learning history an enjoyable process. I, like Amy the driving force of the company, did not enjoy the boring textbooks in high school. It wasn't until we started our own homeschooling journey that I started to realize that learning history wasn't boring, but, in fact, could be quite interesting. But politics? While my husband enjoys it, I do not. We enjoyed our
last study from Home School in the Woods
so much. Could they really create a study on the election process that was enjoyable? I was excited to download it and find out.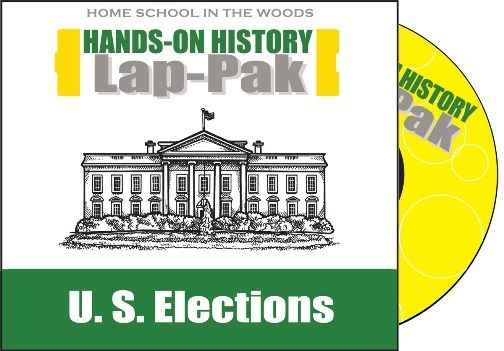 The download (also available as a CD) comes as a zip file. Once you open it, and see the multiple folders, click on the "start" file. At that point, the entire program will open in your browser, making it very easy to use. Instead of clicking through multiple folders, trying to bounce back and forth among the resources, everything is laid out as you need it.
There are full step-by-step directions for everything you need. The text is given in 2 ways: printed and audio. The printed form can be chosen for a booklet format or a full-size binder format. The audio is the word-for-word version of the printed text and is divided into 2 sections with each topic listing the time index, making it simple to advance to the needed place.
The lap-pak topic activities include the following:
Definition of Election
Different Forms of Government
The American Experiment
The Three Branches of Government
Suffrage
Who Do We Vote For?
Terms of Office
A "Handful" of Political Parties
Caucuses & Primaries
National Conventions
The Presidential Campaign: Platform
The Presidential Campaign: Stump Speaking
The Presidential Campaign: Media--News Source
The Presidential Campaign:Advertising--Spreading the Word!
Raising Money
Statistics
Election Day
The Electoral College
Inauguration Day
The electoral Race!
The "Vocabinet"
I normally like to use these kinds of studies with all the kiddos and make it a family project, but this articular one is geared for 3rd-8th graders. While that hasn't stopped me from using material above my little ones' ages in the past, I didn't think the younger kids would follow along with political learning just yet. I'm sure they picked up bits and pieces of the information though as my 10-year-old and I sat at the table each day and listened to the audio together.
I chose to print the pages for the activities day-by-day, so while we listened to the text, I would work on cutting the projects and he would work on either coloring the pieces or simply building with Legos (I've found that it's best for retaining information for my little ones to keep their hands busy while listening to audio). This setup worked really well, because it gave me the opportunity to stop the narration to give further detail or ask him questions about it.
We completed 2-3 topics each day, depending on how long it took us to do them. After we listened to the narration, we completed the projects. Cutting, coloring, taping, gluing, folding--there is much work involved to make this lap-pak. But isn't there often much work involved to get a quality product? There are flaps that open, sections that pop-up, portions that slide, wheels that turn, tabs to pull. Pictures don't truly do the pak justice. We should have taken a quick video to show all the movable parts.
My son didn't enjoy the study at first. Coloring is not something he typically enjoys and listening to the text seemed boring. After a couple days of working and assembling the projects though, he began to have fun. He created his own items for a campaign as if he were running for president. He drew a commercial, designed a button, crafted a lawn sign, and even chose his own presidential slogan. He looked forward to the assignments each day and asked to work on them. I kept hearing things like "That is so cool!" and "That's cute." Mostly what I've heard from him though is "Thank you for helping me make this!" I'm not sure there's anything better to a homeschool mom's ears than her child thanking her for the study.
"I like everything about it. I really like the pop-ups and all the things in the book.
There's so much here! Thank you for letting me do this."
The only frustrating thing I have about this study is the breakdown of the PDFs. Because everything has very specific printing instructions (regular paper, colored paper, white cardstock, colored cardstock) each page is its own file. I understand that need for the "special" pages. The problem comes in when you have to change and rechange the paper multiple times to print. Because of the individual files, you have to open the file, print one page, open another file, and print again. Even if you do not have to change the type of paper for each part of the project, you still have to open multiple files. To make things simpler, maybe all the files could be combined into one large file, so a user could choose to print all similar pages at one time.
Aside from the printing suggestion, I absolutely love this study. The amount of information at an easy-to-understand level and the varying activities are astounding. Not only has my son enjoyed learning about the election process, he's also retained much of the information and has been talking about it through the days. Because the lap-pak is creative and fun, he can keep it to review throughout the years, as well. If you're wanting a quality study to teach your kids the presiential election process, I highly recommend this
hands-on lap-pak
.
You can connect with Home School in the Woods on the following social media sites:
If you'd like to
read more reviews
of this lap-pak, please visit the Schoolhouse Review Crew blog.