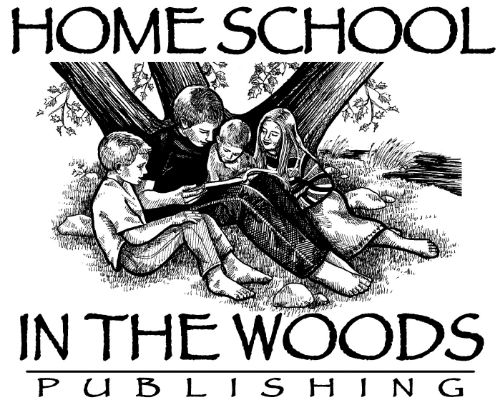 Have you ever wanted to go on an exotic vacation? Visit someplace exciting and experience the culture? Or how about travel back in time and witness events as they took place? We've had that opportunity to do just that the past few weeks.
Ok, maybe we didn't truly travel back in time, and, honestly, we haven't even left the house, but
Home School in the Woods
has made us feel that we've gone on a thrilling and educational journey through
Project Passport World History Study: The Middle Ages
.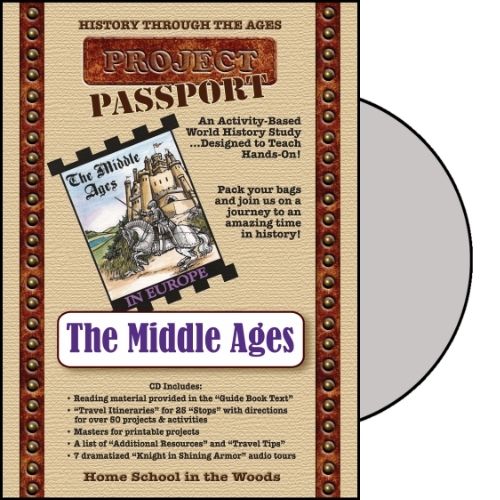 Home School in the Woods is a family business that was started as a way to make history real, understandable, and applicable. Using timelines and realistic illustrations as a foundation, they've created many resources to make learning history an enjoyable process. I, like Amy the driving force of the company, did not enjoy the boring textbooks in high school. It wasn't until we started our own homeschooling journey that I started to realize that learning history wasn't boring, but, in fact, could be quite interesting. I was excited to download this study and travel to the Middle Ages.
The download (also available as a CD) comes as a zip file. Once you open it, and see the multiple folders, click on the "start" file. At that point, the entire program will open in your browser, making it very easy to use. Instead of clicking through multiple folders, trying to bounce back and forth among the resources, everything is laid out as you need it.
Using Project Passport is like taking an actual trip to a specific time period. The program is divided into 25 stops or destinations:
Stops 1-3 Laying the Foundation
Stops 4-7 Everyday Life
Stops 8-9 Business
Stop 10 Science & Invention
Stop 11 Education
Stop 12 The Arts
Stop 13 Medicine & Disease
Stops 14-16 The Church
Stops 17-18 The Crusades
Stop 19 Knights & Chivalry
Stops 20-21 The Vikings
Stops 22-24 Battles, Wars, & Conflicts
Stop 25 Packing Up
The first few stops require a bit of work. What makes this study so well-done, also makes it so much work.
Laying the Foundation
is where you create many of the things you'll need for the trip: a realistic passport, a luggage folder complete with tag, a scrapbook of sights, a postcard rack, a newspaper, timeline, and more. This study is recommended for grades 3-8, but, as with many things, we adapted it to be used as a family project. That means that I was completing each step for a 4th grader, 2nd grader, and kindergartener. It required much paper and cardstock and even more preparation. Since we are doing the trip together, I printed certain things (souvenir cards, newspaper, Medieval cookbook, etc.) only once and keep it in a separate 3-ring binder to be used by all. Other things (timelines, maps, puppets, postcards, etc.) I printed a set for each child to be kept in their own binders.
For each stop, there is a
guide book text
, which contains all the reading material for learning, and a
travel itinerary
, which gives thorough step-by-step instructions for the activities. A sample stop might be like this: reading text, adding snapshot moments to the timeline, writing a newspaper article or a postcard, and one or more other activities like playing a game or creating a souvenir craft. Another impressive feature at some of the stops is the audio tours, where the "tour guide" and background noises make you feel like you're really in Medieval times.
I am amazed at this study. Truly. I have learned, after the first few stops, that we need to slow down to complete this. I had been trying to complete one stop a day, a few days a week. The problem is that along with the 3 older kids, my 3-year-old is usually with us as we're completing the lesson, and sometimes the baby is as well. It was taking well over an hour to get through the reading and activities. I'm sure we could fly through the stops quicker, but we've been enjoying expounding on the reading text while reenacting the Barbarian battles with toy army men and drawing out the feudal system on the dry erase board and just sitting around and discussing various aspects about the time period. My little ones are soaking this up. We've skipped a few of the big activities for now, but fully intend to complete them all by the time we reach the end of our journey.
Zac, 5 years:
I like the activities. I can't wait to make the candy food-thingies (marzipan) that we're going to make!
Alyssa, 7 years:
It's fun. I like making the castle, having the folder that holds our stuff, the passport, Technically, I like everything about it.
Jake, 9 years:
It's cool. I like all the things that you make. I really like learning about the Middle Ages.
The only frustrating thing I have about this study is the breakdown of the PDFs. Because everything has very specific printing instructions (regular paper, colored paper, white cardstock, colored cardstock) each page is its own file. I understand that need for the "special" pages. The problem comes in when you have to print lengthy things like the timeline or newspaper. Because of the individual files, you have to open the file, print one page, turn it around, open another file, and print the back (yes, I "leap-frog" printed, but it still requires much work). To make things simpler, I would like to see those entire resources as one file so I can choose the double-sided printing option and my printer can do the work for me.
That issue aside, I love this program. The amount of information and the varying activities are astounding. Yes, it is a lot of work. Yes, it requires a lot of paper and supplies. But, yes, my kids are excited every day to learn history. And, yes, they are retaining the information and talking about it through the day. Yes, I can't say enough praise about this study. We will be taking another trip through history in the future, for sure.
You can connect with Home School in the Woods on the following social media sites:
Facebook
Twitter
Pinterest
Google+
If you'd like to
read more reviews
of this study or see how other homeschool families used the Ancient Egypt and the Renaissance and Reformation studies, go to the Schoolhouse Review Crew blog.