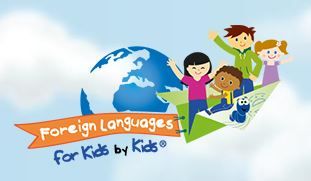 ¡Hola! My kids were super excited about this review from
Foreign Languages for Kids by Kids
. It had been a while since we've formally studied a foreign language together, and they had been asking to learn one.
While there's something so empowering about speaking and understanding a language other than your native one, the learning process can be intimidating. I was pleased when the opportunity came to use the
Starter Set 1
for Spanish. You see, I took 3 years of Spanish in high school. By the last year, once we walked in the room, we could speak only Spanish. Not a single word of English could be uttered. I felt confident that I could teach my children, as well, especially with the help of an award-winning program.
The Start Set 1 is a complete 20-week curriculum that contains everything you need to introduce your family to the Spanish language.
DVD 1 -- The first 3 videos (of an 8-part series) of the program: Basketballs Aren't for Breakfast, The Little Magic House Part 1, The Little Magic House Part 2.
3 Workbooks -- One workbook to correspond to each video.
3 Teacher's Guides -- One guide to accompany each workbook.
Stickers -- Spanish vocabulary words from the first video.
Flashcards -- One color-coded set including graphics and vocabulary for each of the videos.
Go Squish! (included free for a limited time) -- Spanish Go Fish type of card game.
The videos of Foreign Languages for Kids by Kids are the main teaching tool of the program. Everything is completely in Spanish and preformed by kids (with an adult voice off-screen occasionally). The teaching style is a combination of immersion and visuals with plenty of humor and fun. It teaches words and sentences that are practical and used in everyday life in a fun, easy way.
The Teacher's Guide could not be simpler to use. Each lesson is broken down by activities and lists approximately how long it will take to complete. Nearly every day starts with watching a video or portion of a video. There are many learning exercises throughout that both reinforce the vocabulary in the videos and teach additional information about Spanish-speaking countries, like geography, foods, idioms, accent marks, traditions, fun facts, and more. There are also hands-on and gross motor activities.
The guide give specific directions for each activity, but also leaves the lessons open for the flexibility that homeschoolers love so much. It gives alternate suggestions, gives grace to those who might not grasp the language as quickly, and is filled with positive reinforcement.
The workbooks are bold, full-color books. Along with some of that additional information I described already, they are packed with fun activities.
matching
crossword puzzles
word scrambles
multiple choice
secret codes
word searches
missing letters
fill in the blank
creative writing
. . . and so much more
Between the impressive variety of activities in the books and the bold color of the pages and pictures, the kids never get bored. The directions are written first in Spanish and then in English. The side-by-side helps the kids understand and decipher words without specifically being taught. There is a complete, matching answer key for the exercises at the back of each book. The books also increase in difficulty just like it does in subsequent videos.
To say that my kids love this program would be an understatement. The first day, they wanted to watch all 3 videos. Of course, at the time, they couldn't understand a single word other than
hola
and
gracias
. Still, there were smiles and laughter throughout the entire thing. The videos follow a family with 3 boys as they go about their day. The first video takes place during breakfast and teaches words such as
apple
(manzana),
orange
(naranja),
bread
(pan), and
eggs
(huevos) along with a few more complicated things like
where is it?
(
¿
d

ó

nde está?
) and
here it is
(aqui está).
The dialogue is simple and stream-lined. Instead of asking "do you want an apple," one brother holds an apple in front of another and simply says, "
¿Manzana?" As more vocabulary is introduced throughout the videos, the dialogue becomes more complicated. The words are taught through visuals and repetition, so the kids aren't left confused. My kids were walking around speaking Spanish words the first day I played the DVD.
Seriously, my little ones (10, 8, 6, 4) beg to do their Spanish lesson every day. It's fun listening to them walk around the house pointing out what they know and incorporating the language into their conversations. I love when my 4-year-old tells me, "Mommy, I me gusta you." I know it's not a proper translation or combination of the languages, but it shows me that he's understanding and applying it to his own life.
The kids love everything about this curriculum--videos, workbooks, Go Squish! card game, flashcards, stickers, everything. We've had a lot of fun together doing the lessons. The only somewhat negative I can even say is that because the workbook pages are glossy it can be difficult to write on with some utensils and that if you leave the stickers on certain surfaces for a month they can leave a residue that you have to clean (this one is my fault, oops).
The products from Foreign Languages for Kids by Kids are quality resources. The
Spanish Start Set 1
has been a huge hit in our house. It's not only successfully taught my children the words that are used in the videos in a fun way, but has also encouraged them to learn more on their own. They're often asking me the Spanish equivalent of a word. It's amazing all the information that I've remembered from my high school days just by using these videos. We're also using my Spanish/English dictionary on nearly a daily basis.
We're still working out way through the second video and accompanying workbook. I see us studying Spanish through Foreign Languages for Kids by Kids for a long time. The kids love it; I love it; and it works.
If you'd like to see how other homeschool families used this product, please
read the reviews
on the Schoolhouse Review Crew blog.