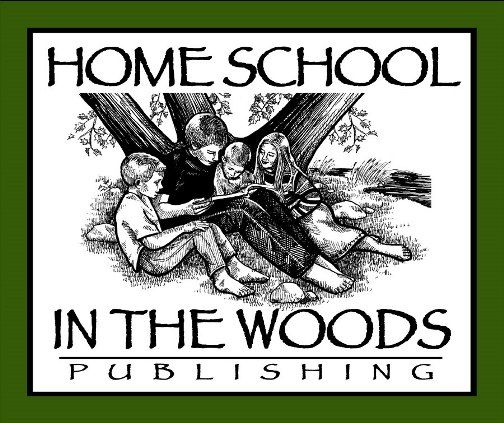 A new year has started with the Homeschool Review Crew! And what better way is there to start than with a review from one of our favorite vendors?
Home School in the Woods
is known for their detailed, hands-on history curricula. Their Project Passport series offers many studies that take you in a trip to various lands and time periods. The studies are created in a fashion that makes you feel as if you are truly traveling by taking you on a thrilling, educational journey.
We are currently "visiting" Ancient Egypt with the digital version of
HISTORY Through the Ages Project Passport World History Study: Ancient Egypt
. My kids have always been fascinated by the pyramids, mummies, hieroglyphics, pharaohs, and all things Ancient Egypt. They were excited to take another Project Passport trip back in time.
Home School in the Woods is a family business that was started as a way to make history real, understandable, and applicable. Using timelines and realistic illustrations as a foundation, they've created many resources to make learning history an enjoyable process. I, like Amy the driving force of the company, did not enjoy the boring textbooks in high school. It wasn't until we started our own homeschooling journey that I started to realize that learning history wasn't boring, but, in fact, could be quite interesting. I was excited to download this study and travel to the Middle Ages.
The download (also available as a CD) comes as a zip file. Once you open it, and see the multiple folders, click on the "start" file. At that point, the entire program will open in your browser, making it very easy to use. Instead of clicking through multiple folders, trying to bounce back and forth among the resources, everything is laid out as you need it.
Using Project Passport is like taking an actual trip to a specific time period. The program is divided into 25 stops or destinations:

Stops 1-2 Laying the Foundation
Stops 3-5 Everyday Life
Stop 6 Agriculture, Trade, and Transportation
Stop 7 Education
Stop 8 Literature and Writing
Stop 9 The Sciences
Stop 10 Medicine and Disease
Stop 11 Ancient Egyptian Arts
Stop 12 The Great Builders
Stop 13 Religion and the "gods"
Stop 14 Governing the Land
Stop 15 The First Dynasties
Stop 16 From Chaos to Order and Back Again to Chaos
Stop 17 A Land Divided
Stop 18 The New Kingdom Begins
Stop 19 Egypt's Most Famous Women
Stop 20 The Conquering Pharaoh
Stop 21 Akhenaton and Tutankhamen
Stop 22 Egypt Fades Away
Stop 23 Ancient Egypt and the Bible
Stop 24 Bringing Back the Past
Stop 25 Packing Up
The first few stops require a bit of work. What makes this study so well-done, also makes it so much work.
Laying the Foundation
is where you create many of the things you'll need for the trip: a realistic passport, a luggage folder complete with tag, a scrapbook of sights, a postcard rack, a newspaper, timeline, and more. Since this is our second Project Passport trip, we were able to use the same luggage and passport from before. Everything else is specific to each individual study.
This study is recommended for grades 3-8, but, as with many things, we adapted it to be used as a family project. That means that I was completing each step for a 6th grader, 3rd grader, 1st grader, and a preschooler (a few stops along the way, the preschooler lost interest in many of the activities. I stopped printing the materials for him, but he does listen to and participate in the lessons). It required much paper and cardstock and even more preparation. Since we are doing the trip together, I printed certain things (newspaper, Egyptian cookbook, games, etc.) only once and keep it in a separate 3-ring binder to be used by all. Other things (timelines, maps, souvenir cards, postcards, etc.) I printed a set for each child to be kept in their own binders. Since the kiddos are a bit older now, they can do much of their own cutting, gluing, and whatnot this time around.
For each stop, there is a
guide book text
, which contains all the reading material for learning, and a
travel itinerary
, which gives thorough step-by-step instructions for the activities. A sample stop might be like this: reading text, adding snapshot moments to the timeline, writing a newspaper article or a postcard, and one or more other activities like playing a game or creating a souvenir craft. Another impressive feature at some of the stops is the audio tours, where the "tour guide" and background noises make you feel like you're really in Egypt.
This is my third study from Home School in the Woods, and I am just as impressed as I was the first time. We average about one stop a week, as there is so much involved with the lessons. Since we have a busy get-into-everything toddler in our home, we wait until his nap time to head back to Egypt. One day we'll read the guidebook text (which usually spirals into deeper discussions of the topics and results in our looking at various pictures). Another day, we'll work on some of the simpler projects. Day three, we reserve for some of the more complicated, hands-on learning.
One thing that really increased our learning that my parents visited Egypt a few years ago. The kids and I were able to look through their pictures and see the places and things that we are learning about. I was also able to show them my own cartouche that my parents brought back for me. All these things made the learning more personal for us.
Here's what my kids said about this product:
"I like the Pyramids! And I like the projects.
"I like that it has a lot of coloring."

"I like when you read about it to us. I don't like the coloring, but I like the projects."

The only negative opinion I have about this study is the breakdown of the PDFs. Because everything has very specific printing instructions (regular paper, colored paper, white cardstock, colored cardstock) each individual page is its own file. I understand the need for the "special" pages. The problem comes in when you have to print lengthy things like the timeline or newspaper. Because of the individual files, you have to open the file, print one page, turn it around, open another file, and print the back. To make things simpler, I would like to see those entire resources as one file so I can choose the double-sided printing option and my printer can do the work for me. My techie husband was able to grab those files, combine them in a PDF converter app, and then print all at once. It was faster than printing it according to the directions, but it seems like an unnecessary step when it could come as one file in the download.
Aside from the printing suggestion, I absolutely love this study. The amount of information and the varying activities are astounding. It is a lot of work to prepare, but that's part of why it's so well-loved in our home. I can guarantee we'll take another
Project Passport
trip one day as there are so many places we can visit, like their newest title, Ancient Greece and Ancient Rome (coming 2018).
I think the biggest compliment I can share about this product is when my daughter announced in the middle of our study one day, "This is my favorite school thing ever."

You can connect with Home School in the Woods on the following social media sites:
If you'd like to see some of the other fun studies from this company, please
read the reviews
on the Homeschool Review Crew blog.