Have you noticed how many book reviews we've been getting recently? The kiddos and I have been thrilled to be able to receive so many wonderful books to enjoy. Our favorite part of the day is when we cuddle up together on the couch (well, some of us cuddle--it's always a race to see who calls a seat by Mom first--and the others typically build with Lego) and read aloud. It's not only a special time of bonding, but also an effective way of learning. Without realizing, the kids are learning sentence structure, pronunciations, and vocabulary, along with whatever topics are covered in the chosen book. In this particular book written by
Peggy Consolver - Author
, they learned about geography, history, culture, and the Bible.
Shepherd, Potter, Spy--and the Star Namer
is a fictional story based on true events. It was the result of several years of Peggy Consolver reading through a chronological reading plan of the Bible. She began to focus on the Gibeonites and question their response to the Hebrews, when everyone else in the land chose a different plan of action. Starting with the facts,
she took the story
recorded in Joshua chapters 9-10 and embellished it. By filling in details of historical culture, weaving in other biblical references, and adding her own imaginative plot, she made the story of the Gibeonites come alive.
The story follows Keshub, a young shepherd boy born in a potter's family. He's a typical boy that dreams of adventure and experiences plenty as his tale unfolds. Defending his flock of sheep from a bear and a lion, befriending an evil king's son and helping him escape, being tormented daily by the village bully, traveling to large neighboring cities, becoming a spy to keep watch on the feared Hebrews, coming face-to-face with enemy soldiers, and living the life of a slave are some of the excitement that's mixed into his mundane tasks of caring for sheep, stopping clay, carrying water, and living a simple life.
The God of the Hebrews--the Star Namer--commanded them to utterly destroy their enemies. As the Hebrews defeat the cities in their path, the Gibeonites must decide what to do. Do they stay and fight? Do they run and hide? Their decision will decide the fate of their people, and Keshub and his family play a main role.
I hadn't originally intended to use this book as a family read-aloud. I gave it to my oldest two kids (ages 11 and 9) to read independently. They were intrigued by the story line as they enjoy learning both Bible and historical stories. However, they lost interest very early on and I realized neither of them was reading the book after a couple days. Once I determined to read it to them, I understood why. Not only is the book filled with uncommon names (after all, it does take place in the Middle East thousands of years ago), the beginning of it is very detail-oriented and adjective-heavy. I finished the first couple chapters and wondered how we'd make it through the nearly-400-page book. Then something changed. The writing style shifted slightly, we became familiar with the names, and we found ourselves immersed in the story.
"I love this book!"
"Can you read another chapter? Please?"
"This is so exciting!"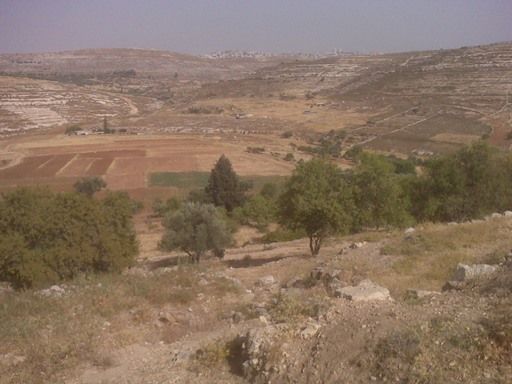 Because
Shepherd, Potter, Spy--and the Star Namer
is based on true events, my kids loved catching all the biblical story references throughout book.
Manna
Serpents in the wilderness
Moses on the mount
Rahab protecting the spies
destruction of Jericho
Crossing the Jordan river
Pillar of fire and cloud
Sun standing still for a day
And more.
The author has also written
Digging Deeper into HIStory
, an accompany
study guide
to the book. It is filled with links, maps, pictures, videos, how-tos, and other information to help you learn more. There is a free sample on the site, as well.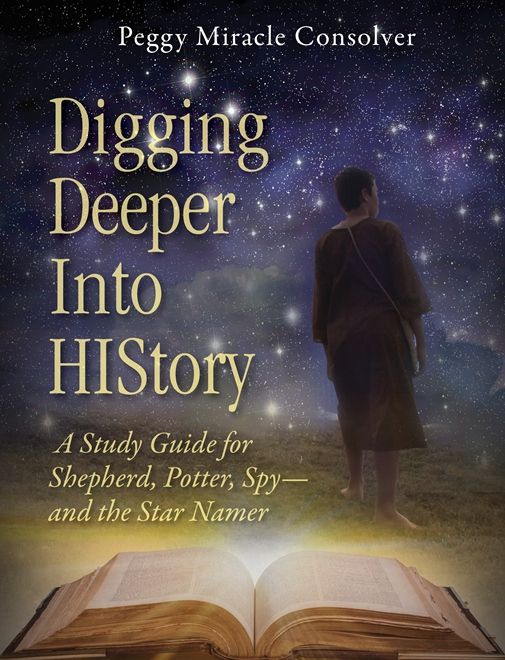 Shepherd, Potter, Spy--and the Star Namer
allowed us to see the story of the Gibeonites from a different point of view and helped us to remember that these events were historical fact and not simply stories. My kids range in age from 5-11, and while they greatly enjoyed listening to this as a read-aloud, I believe the reading level is intended for an older crowd. The author has done her homework and it shows in the product of her book. We won't know what thoughts went through the minds of those Gibeonites until Heaven, possibly, but
Shepherd, Potter, Spy--and the Star Namer
gives a description that is believable and a good example of what may have been.
You can connect with Peggy Consolver - Author on her
website
and
Facebook
.
If you'd like to
read more reviews
of this book, please visit the Homeschool Review Crew blog.