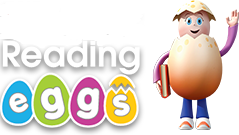 My two oldest kids used
Reading Eggs
years ago and loved it. Naturally, I was excited to review it again with my next two kiddos. We're a techie family, so anytime they get extra electronic time, they're happy. And when I tell them they get to play games on the computer for school? They're really excited.
Reading Eggs is an online program that teaches kids to read. The engaging games and activities make learning fun while still teaching important skills. This program from Blake eLearning was created by an experienced team of teachers, educational writers, animators, and web developers. It focuses on a core reading skills and strategies that encourage reading success. They're so confident in their program, that they're offering a
free 4-week trial
.
When you sign into your Reading Eggs account, you'll be taken to your family dashboard. From there, you can choose which child (if more than one is signed up) is using the program. The dashboard also gives important stats, like the student's approximate reading level, how many phonics skills and sight words he knows, his progress, which stories he has read, and other recent events he's completed. Because the program is designed for ages 3-7 and reading skills can vary greatly during those years, there is a placement test for the student as soon as he starts.
The lessons are divided into maps. Each map shows a scene from an outdoor playground and includes 10 lessons. Level 1
Starting Out
is for absolute beginning readers and covers lessons 1-40, level 2
Beginning to Read
is for emerging readers and consists of lessons 41-80, and level 3
Building Confidence
is for early readers and covers lessons 81-120. Zac (7) was placed at lesson 111, the first lesson of map 12 (the last map) and Tyler started at lesson 61, the first lesson of map 7.
The lessons are animated and incorporate a variety of options for teaching. There are songs, books, videos, and many games. The games can be so silly: adding hair to monsters, squirting sauce on eggs, catching frogs on lilypads, hopping penguins to ice chunks, adding stamps to letters, and so much more. Reading Eggs uses the synthetic phonic method to teach reading. The lessons teach the student to decode words by sounds and by showing them how to make connections between written text and spoken language. Students are taught graphemes (letters) and phonemes (smallest unit of sound) and then incorporate sight words.
As the students progress through the lessons, they earn golden eggs that can be used to purchase various items. They also unlock places such as My House, Puzzle Park, and Driving Tests. The places and items add a fun element to the program. For instance, the kids can use their eggs to buy furniture for their house, accessories for their avatar, or to play a game.
There are also printable activity sheets that correspond to each lesson. The students practice tracing and writing the letters, matching the letter sounds to words, coloring pictures, reading sentences and matching them to the appropriate pictures, and much more. The tactile aspect is a good reinforcement which many kids greatly benefit from. My kids have really enjoyed this hands-on part as well.
Last week, Reading Eggs released a brand new set of program guides that specifically support homeschoolers. The guides are free and can be downloaded from the parent dashboard under Bonus Material.
My boys, just like their older siblings, love
Reading Eggs
! Because the teaching is disguised as fun, the kids don't even realize how much they're learning. They will sit and play for hours if I let them, so we have to set some boundaries so other school work will be accomplished. There are other branches of the program, too: Reading Eggs Junior (ages 2-4), Reading Eggspress (ages 7-13), and Mathseeds (ages 3-9). There really is so much involved with this program that it would take forever for me to try to explain it all. If you'd like to see how it works in more specific detail, you can try a
sample lesson
for free.
Truly though, if you have a child who is learning to read or needs a little boost in language arts, set up a
4-week free trial
and see what all Reading Eggs has to offer.
You can connect with Reading Eggs on the following social media sites:
Facebook
Instagram
Twitter
Pinterest
YouTube
You can
read more reviews
of Reading Eggs on the Homeschool Review Crew blog.