Math is a subject that is used in everyday life, whether it's for your job, in your home, or at the store. That's why it's so important to have a good grasp of understanding. Since math builds on itself, I want to make sure that my kids have a solid foundation now, so that future learning of more difficult concepts is made easier. The problem though is that as my firstborn has gotten older, he's decided that he no longer likes math.Some days it's a complete struggle to get him to complete his assignment. I knew it was time to try a new curriculum.
We used
Math Mammoth
years ago. He did well with it then; maybe we'd have the same results with it again. The company offers everything from full curricula to books for specific topics to review workbooks and even individual worksheets. I opted for the
Light Blue Series
, which is a full elementary mathematics curriculum and chose
Grade 6
. Though the curriculum is offered in physical book form, we are using the digital version.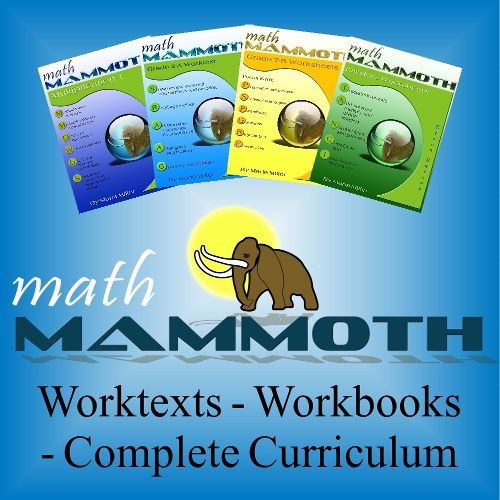 Math Mammoth is different from other curricula in that it is mastery-oriented instead of spiral-oriented. The student is introduced to a new concept and then given many opportunities to practice and truly learn it before moving on, as opposed to quickly "learning" a new concept, practicing a handful of times, and then reviewing prior work. This method insures that the student understands one topic before learning another. The books also emphasize conceptual development and mental math. The directions are written to the student himself, which results in a self-teaching format and requires little preparation and involvement from a teacher.
The contents of the book are as follows:
Chapter 1: Review of the Basic Operations
Chapter 2: Expressions and Equations
Chapter 3: Decimals
Chapter 4: Ratios
Chapter 5: Percent
Chapter 6: Prime Factorization
Chapter 7: Fractions
Chapter 8: Integers
Chapter 9: Geometry
Chapter 10: Statistics
The download for the curriculum contains many parts. The worktext itself is broken into two books (divided into chapters 1-5 and 6-10) along with corresponding answer keys. There are also tests (along with editable versions), multiple review worksheets, and other useful tidbits and valuable information. Also included in the worktexts are multiple online resources. Things like charts, games, worksheets, quizzes, and other various tools enhance the study for more learning.
Obviously my son has not completed this curriculum in the last month or so that we've been using this, but I can already tell that it's a good fit for him. For one thing, he hasn't been complaining about his assignments! For another, he actually told me that he liked this book "much better than the other one." The directions are easy-to-understand and thorough. The problems themselves are varied. Instead of completing 20 of the same type of exercise with different numbers like other books, there are only a handful of each exercise before the style is changed. Same concept, different execution. This setup helps him to keep interest and not become overwhelmed. The problems require him to use logic and reasoning to solve the answers. His main complaint with past curricula was that he was reviewing such a wide range of math topics in a single lesson, even ones that he knew well and no longer needed daily practice. This issue is resolved with this particular curriculum.
One thing that originally concerned me when I was looking over the curriculum is that it meets Common Core Standards (CCS). I have used Common Core aligned materials and have been extremely disappointed, so much so that I have thrown books out because of the poor directions/problems/answers/execution/etc.. Maria, the author of the Math Mammoth materials, addresses the CCS through a
lengthy explanation
. I respect her taking the time to not only share her opinion, but also to give further understanding about the whole situation. I realized then that the CCS was not going to be an issue in using this curriculum.
I am very pleased with this math curriculum. The change in my son's attitude alone is enough to make me happy, but the fact that he's learning and retaining the information means that it's accomplishing its purpose. If you'd like to see if
Math Mammoth
would be a good fit for your family too, you can enjoy over
400 free sample pages
taken directly from their books.
You can connect with Math Mammoth on the following social media sites:
If you'd like to
read more reviews
of the many options that Math Mammoth has to offer, please visit the Homeschool Review Crew blog.