You may have tangible wealth untold;
Caskets of jewels and coffers of gold.
Richer than I you can never be--
I had a Mother who read to me.
- Strickland Gillilan
Children love listening to stories. I can remember as a child growing up, my parents read to me every night before bed. I can still hear my dad's silly voices as he mimicked Goofy or Donald Duck. I have precious memories of cuddling with my parents as we shared in these stories together. Now, I have the joy of making memories with my own children. Generally, Leighton reads them a single bedtime story, but I have the privilege of being sandwiched between 2 little ones with another on my lap and reading multiple books during the day. Pure bliss.
We had the opportunity to review
Before Five in a Row
(
BFIAR
) by Jane Claire Lambert. It is used as a guide to enhance your child's awareness of the world around him and help create memorable times of interaction between you. The purpose of this book is not to instruct or teach per se, but to have a happy introduction to many different topics and to build intimacy between the reader and the child.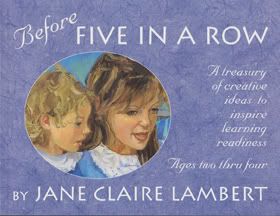 The design is to choose one of the 23 mini-units, each based on a classic children's story, and read it five days in a row. Each day, you choose one of the corresponding activities covering areas like Bible, art, math, science, language, music and more.
Some of these books are already my kids' favorites. Books like Goodnight Moon and The Snowy Day I've read more times than I can remember. There's just something about the simplicity that draws the children in and makes them beg to read them, "Again, again!" (and quote it along with you from memory.) We also own several other books that are used in BFIAR, but not all. So of course, we just had to make a trip to the library. (Mention the word library in our house and there will be smiles all around.)
I used BFIAR with Jacob (5), Alyssa (3), and Zachary (22m). They had a lot of fun rhyming words with The ABC Bunny, recognizing shapes in Goodnight Moon, playing Monkey See Monkey Do like Caps for Sale, performing the action words in Corduroy, and much more!
I absolutely love part 2 of this book: Parent's Treasury of Creative Ideas for Learning Resources. I am constantly checking out books from the library, buying books from yard sales, and perusing the internet in search of creative things to do with my kids. Making a craft every Monday, baking every Tuesday, and conducting a science experiment every Thursday keeps us pretty busy. I am constantly looking for ideas to spark a project. The second half of this book is all about that. It lists many, many,
many
ideas of play-based learning, building fine and motor skills and all-around life-skills, and just plain fun. It lists activities as simple as sitting on the floor, facing each other and rolling a ball back and forth to playing Shopping List Bingo to making your own play dough (like
we did here
.)
BFIAR can be purchased from
Rainbow Resource Center
for $35.00. They also sell
Five in a Row
(PreK-3 grade),
Beyond Five in a Row
(3-7 grade),
Above and Beyond Five in a Row
(7-8 grade), and some of the corresponding children's books.
I highly recommend
Before Five in a Row
to anyone with young children. Whether you use the ideas in this book or devise your own, make sure when your children are grown they can say "
Richer than I you can never be--I had a Mother who read to me."
Check out what my fellow Crew members said about BFIAR
here
.
* I was given a copy of Before Five in a Row in exchange for my honest review. All opinions are my own.