"Finally, brethren, whatsoever things are true, whatsoever things are honest, whatsoever things are
just, whatsoever things are pure, whatsoever things are lovely, whatsoever things are of good report; if there be any

virtue

, and if there be any praise, think on these things." (Philippians 4:8)

We know the Bible tells us that we're supposed to think on things that are virtuous, but what does that mean?
Webster's 1828 dictionary
defines virtue as "
moral goodness; the practice of moral duties and the abstaining from vice
" also "
Virtue is nothing but voluntary obedience to truth.
" That certainly sounds like what I teach and expect of my children. I was pleased to receive
We Choose Virtues
to aid in the teaching process. It was created to help parents, teachers, and youth workers inspired lasting character into the children they influence.
The
Virtue Clue Cards
($5.99) are simple to use. Each card, about the size of a business card, has a virtue, or character trait, on it. It gives an easy-to-understand definition, explains what it is not, and gives a challenge in which to pursue that particular virtue. It's a good tool for any age and comes in a convenient little pouch, small enough to stash in a pocket for easy transporting.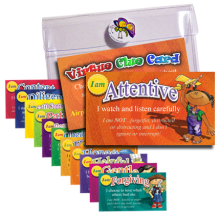 My kids (6 yr and 3 yr) and I have loved using this program. I mean, what's not to love? Teaching my little ones I am diligent, I am helpful, I am perseverant, I am gentle, I am content, I am attentive, I am honest, I am kind, I am self-controlled, I am patient, I am obedient, I am forgiving cannot be a bad thing! Each day, the three of us cuddle up together on the couch and read a card. We discuss the definition in a little more detail. Then, we think of ways in which we all portrayed that virtue or suppressed it recently. We also read about a Bible character who showed that virtue and color a picture. What's been the best part though, is seeing them make an effort to incorporate these character traits in their lives! I love hearing my child say, "I was perseverant!" after completing a hard task. Or if they are not listening, I can ask, "Are you being attentive?" and they stop and listen. Just like the dictionary said, they are learning voluntary obedience to truth.
We've greatly enjoyed learning ways in which to purposely incorporate virtues into our lives and will continue to use these resources to train our children also.
You can find more reviews of We Choose Virtue on the Crew blog
HERE
.
* I was given a few of these resources in exchange for my honest review. All opinions are my own.