If you have young kids, you need
The Homegrown Preschooler: Teaching Your Kids in the Places They Live
. There are not too many products that I say,
Quick, buy this now!
, but quick, buy this now! I've read many books, I've searched countless blogs, I've seen projects and tips and ideas. This book, by far, has been my favorite resource.
I enjoy getting products to review with the kids, but I love when I get a book for me. So, when I received my package from
Gryphon House
(an award-winning publisher of of early childhood resources), I tore it open and began flipping through the pages. It's full of pictures, and since I'm a very visual gal, I liked it immediately. You can't thumb through the book without wanting to open a bottle of paint, squish some dough between your fingers, or dress up like a pirate.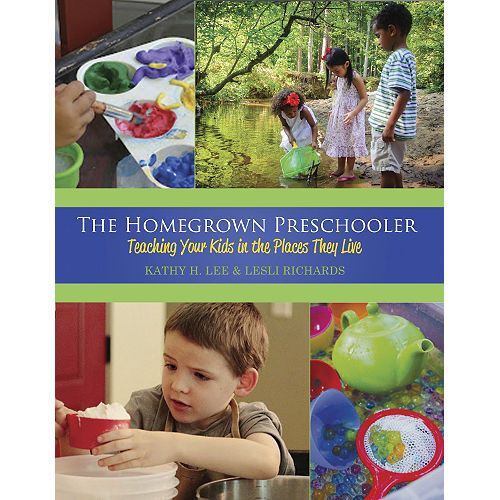 The Homegrown Preschooler
was written by two homeschooling moms who have 12 kids between them. I've never met Kathy or Lesli, but I like them already. They are very open and honest throughout the book. They tell stories, relate struggles, and prove that they are just like you and me. They're philosophy, that learning should be fun, mirrors mine exactly. I always say that homeschooling is learning in everyday situations. This book shows you how to make sure that happens.
The first half of the book will help you determine your values and goals for your family. It will also show you what the days will look like during this season of life. There are recipes, tips, and ideas sprinkled throughout.
Chapter 1: Homeschooling--Harvesting A Bountiful Life - helping you consider the learning style and unique talents and interests of your child
Chapter 2: Learning Through Play - helping you understand the importance of making memories, discovering, experiencing, and playing
Chapter 3: Sowing The Seeds--Preschool Learning - helping you cover all the developmental and educational bases so your child can transition into kindergarten (homeschool or secular)
Chapter 4: Setting The Stage - helping you use your home productively as the natural environment for learning
Chapter 5: Home Life = Learning--Slow Down And Teach - helping you find the lesson in everything
Chapter 6: Who Has Time For This - helping you find a schedule that works for you
Chapter 7: Organizing It All - helping you organize so the day runs smoothly
Chapter 8: Days And Seasons That Don't Fit In The Box - helping you cope on the unpredictable days
Chapter 9: Special Circumstances - helping you deal with illness, developmental issues, and adoption
The second portion of the book is full of developmentally appropriate activities that will set your child on the road of life-long learning. The activities are divided into target areas of growth. There's even a checklist to ensure to help strengthen each area. There are also plans for light and sensory tables and a Plexiglass easel included.
Home Life - setting the table, mixing ingredients, washing the car, planting a garden
Science - evaporting art, fizz fun, nature table, bird calls
Gross Motor - animal charades, obstacle course, outdoor bowling, pop popcorn
Fine Motor - toe pick-up, kneading dough, lacing beads, placemat puzzle
Math - sorting beach shells, rhythym sticks, TP measuring, Mom's store
Language and Emergent Literacy - reading spot, sandy alphabet, playdough letters, nursery rhymes, songs
Art and Sensory - puffy paint, tongue painting, fruit stamping, stained glass art, fly guts
Social-Emotional - dress up, hair salon, post office, thankful jar
Not only does it list hundreds of ideas of how to teach your preschooler (or any child really), it describes each idea thoroughly. I've seen many of the concepts before and have executed quite a few of them in my home with my children, but there are some suggestions that seemed so obvious that I wondered
Why did I never think of that?
and others sounded so fun that I knew we'd have to try them. So many people scour
Pinterest
to find activities to do with the kids.
The Homegrown Preschooler
is Pinterest in tangible form.
Between the slower schedule of summer and trying to play catch-up from various circumstances, I had started to slack in the play department. Sure, my kiddos always help in the kitchen and I strive to apply a learning attitude in our everyday life, but I wasn't being intentional in my playing with them. This book has helped me renew my love of intentionally playing with my little ones. I love when they're learning and they don't even realize it, when they're "doing school" but simply having fun.
The Homegrown Preschooler
costs $29.95
and is worth every penny. Coming from a coupon-using, deal-finding, savings-loving girl, that's saying a lot. So, let me say it again,
quick, buy this now
. Even if you're not planning to homeschool, even if your children will one day head off to a brick building for education, give them a solid foundation for learning. I guarantee I will reference this book many times as we continue this journey.
Some of my Crew mates reviewed
Global Art: Activities, Projects, and Inventions from Around the World,
also from Gryphon House. Head over to the Schoolhouse Review Crew blog to
read those reviews and more
of
The Homegrown Preschooler
.