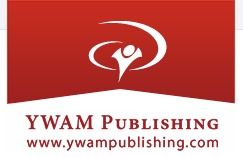 Our family loves read-alouds. I know, if you've read our blog much, you already knew that. The kids love cuddling up with me on the couch and listening to a story come alive. Some days, we'll sit for hours at a time, immersing ourselves in the pages of a book. We love all sorts of books, but my oldest's favorites? The ones he himself will devour? Biographies. He loves reading about the lives of people, knowing that that events actually took place. I knew he especially would love to review
Jim Elliot: One Great Purpose
.
This book by Janet and Geoff Benge is part of
YWAM Publishing's
Christian Heroes: Then and Now series
. The series relates the stories of ordinary people who accomplished extraordinary things for the glory of God. They are great role models for kids and adults alike as you read about their faith being tested and how they remained true to God. This book is suggested for ages 10+, but my 7, 5, and 3-year-old enjoyed it just as much as I did.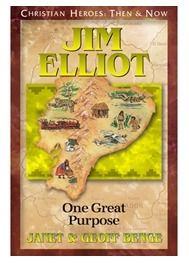 I'm sure many of you have heard of Jim Elliot and know some of his basic life story. You may even have seen the movie that came out years ago. That was me. I knew a little. I watched the movie. I was touched by their dedication and devotion to God and sharing His salvation message with His people. But there was a deeper reason I really wanted to read this book: my husband knew Steve Saint (Nate's, the pilot, son.) His father worked for him both in Minnesota and later in Florida. They were friends. It wasn't until Leighton was older that he learned the story. Reading a biography that includes a man who was the father of someone my husband grew up knowing (confusing?) made this book all that more real to me.

Jim Elliot: One Great Purpose is about just that--his one great purpose. He had an overwhelming desire to bring the gospel to the jungles of Ecuador. The book takes you along his journey traveling to South America, learning Spanish and Quichua languages, building mission stations, watching his work being destroyed by the rains, holding Bible conferences, training converts, and eventually contacting the Auca Indians.We learned what they ate, how they lived, what trials they faced. We saw their unwavering faith even when they faced hardships. We cheered for them when the blessings came and wept during the sorrows.

I admit, I get into my books. I'm always sad at the end of a fiction series because I want to know "how it ends." Just tell me more! I want to know the rest of their lives! I know it's silly. There really isn't any more to know. And I cry. There have been times when I've answered Leighton's phone call while sobbing. He's been concerned and wondered what the problem was. "I'm reading," I'd say, tears pouring down my face. Yes, I lose myself in a good book. But I don't think I've ever cried during a non-fiction book. I mean, I already knew the outcome anyway. But like I said, this book was so real to me, as it should be. There were times when it was difficult to read it aloud to the kids. I had to choke back tears because of what these dear people of God were experiencing, long before that dreadful ending. Here in the comfort of our homes, we can lose touch with the rest of the world. Since we graduated from a Bible college, we have many missionary friends on foreign soil right now, experiencing hardships that are very similar. This book has helped me know how better to pray for them.
For whosoever will save his life shall lose it: but whosoever will lose his life for my sake, the same shall save it. Luke 9:24
Elliot and his friends knew the risks involved with coming into contact with the Aucas. They knew that no one ever met one and lived to tell about it. They knew that they were still living in the Stone Age and wanted no part of living in the present. They knew that they were in a vicious cycle of killing each other off. None of those stopped them from following through with God's plan. In fact, that last reason was probably the number one thing that drove them to want to help these people. They wanted the Aucas to understand that there was a better way to live. Teaching them about God's love would change their hearts. There was one quote from the book that truly demonstrates the love these people had for a group they had never met:
"If it came to a choice between losing their own lives and taking the life of an Auca, the missionaries were ready to lay down their lives."
They were more concerned with the bigger picture--someone reaching the Aucas with the gospel--than their own selves. The men may have lost their lives that day, but they paved the way for others to tell of Jesus.
Along with the digital book, we received the digital
curriculum study guide
. The guide helps to further your study including geography, social studies, history, and world missions, to name a few. It designed to benefit all learning styles, group and individual study, and a wide range of ages.
From their site, the guide includes:
Student Explorations - essay writing, creative writing, hands-on projects, audio/visual projects, arts/crafts
Social Studies - reproducible maps, geography, terms/vocabulary, journey tracking, critical thinking
Bible Study - scripture memorization, devotional application, spiritual concepts
Community Links - meaningful field trips, guest speakers, service projects
Related Themes to Explore - missions, current events, life skills, math, government, science
Bibliography or Related Resources - books, movies, documentaries, magazine articles, websites
Culminating Event - project displays, cultural food, music, and activities, oral presentations
Since the recommended age is 10 and my kids are much younger, a lot of the study guide was a bit advanced for them. We discussed the comprehension questions at the end of each chapter. The first question was always a vocab word (
hospitable, elusive, meticulously, dubious
, etc..) I'd ask the kids what the word meant. If no one knew (read: if the older two didn't know), I'd use it in a sentence. They'd tell me the meaning after that. I personally loved that part. It's very important to me to read my children rich literature that incorporates vocabulary that is above their level. We made playdough "clay pots," made a collage of things that reminded them of the story, and looked at my Spanhish/English Bible, amongst other things. I fully intend to read this book again with them many years from now so we can partake in the other great activities in the guide. We can make a papier-m
âch
é map of Ecuador or create a brochure advertising an Amazon Excursion
or mark cities on an atlas.

We can video a mock interview with Jim Elliot, write essay questions, and host and Ecuadorian party. The study guide is filled with activities, projects, and ideas to greatly further your study.
Both the paper and digital
copies of the book
can be purchased for $6.99 and the
curriculum study guide
(paper only) can be purchased for $7.49. We enjoyed these materials immensely. I've already looked at some of the many other books they offer and started drooling over the ones I want. It's not just Christian hero books they offer, they have heroes of history and heroes for young readers, too. In fact, some of my crew mates reviewed a book about George Washington. Not only does a purchase give you quality books at a great cost, it helps support missions around the world.
You can
read reviews of George Washington:True Patroit
and more of this book on the Schoolhouse Review Crew blog.