I enjoyed writing stories as a child. I grew up and took writing classes for my English major in college. Now, I write for our blog. My husband wrote stories, too, and continued even as he got older. I have multiple poems he's written me over the years, as well. {swoon} Our daughter writes stories often and has her own notebook specifically for them. Our oldest son though? Hates writing. When we talk about his writing assignments, I always get the typical response, "Why do I need to learn this?" He think because he doesn't want to become an author that he shouldn't need to hone his writing skills. I've tried to show him how practical it is to put your thoughts into written word, whether he wants to write a sermon, fill out a r
esum
é, send a letter, go to college, get certain jobs, along with other examples.
I couldn't seem to get through to him, so I was hoping maybe
Writers in Residence
from
Apologia Educational Ministries
would help.
Apologia Educational Ministries
is well-known in the homeschool realm for their science curricula and other biblical worldview products. This Christian company believes "
that every educational subject in your home school can and should be taught from a biblical worldview built on the solid foundation of God's Word and centered on Jesus Christ.
" It's always best to use products that reinforce your beliefs. We have loved everything we've gotten from Apologia in the past, so I was looking forward to this product, as well.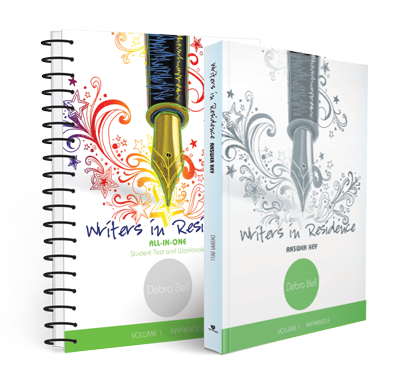 Writers in Residence is a new language arts curriculum created by Debra Bell. This all-in-one student text and workbook will guide your students through the entire writing process. Along with learning how to create engaging stories and essays, they'll learn sentence structure, the parts of speech, punctuation, capitalization, and grammar. Instead of focusing solely on the four traditional forms of writing (personal, expository, persuasive, and narrative), this curriculum teaches the student how to combine several forms of writing as it is more practical.
There are four types of writing projects throughout the course:
I Remember -- Students write about experiences they had.
I Imagine -- Students write high-interest, creative writing assignments in the form of fiction.
I Investigate -- Students use research skills to write a form of investigative journalism.
I Think -- Students write persuasive essays and defend them with logical reasoning, facts, and examples.
The program is divided into six units with multiple modules each.
Unit 1: When I Was Young
-- Writers use their memories as a source of ideas.
Unit 2: Very Truly Yours
-- Writers use their imaginations.
Unit 3: My Family Hall of Fame
-- Writes should write what they know.
Unit 4: My Favorite Author
-- Learning to think deeply.
Unit 5: The History of Me
-- Learning to dig into your past.
Unit 6: Zap! Pow! Kazam!
--Learning to create great characters.
The Writers in Residence curriculum is intended for 4th grade and older, but is flexible enough to be used with multiple ages at a time. A sample schedule is given at the beginning of the book. This tool makes it very easy for my son to know what assignments need to be completed each day and helps him to not get overwhelmed by the size of the very large book.
Speaking of large, this book is packed full of not just assignments and directions, but all sorts of little tips and snippets of information. The book is engaging and colorful. It grabs your attention with its format and isn't a typical "boring" textbook.
An Answer Key book is also included with the all-in-one student book. This key contains all the answers for the student activities in which there are specific answers, like the punctuation and capitalization exercises, answers to reading assignments, definitions, and more. The answers are shown in green type on pages that look identical to the student's book.
Both books are easy to use. My son is being challenged by the assignments, but not to the point of frustration. We had a few very rough days in the beginning, but because the lessons build on previously taught concepts and skills, he is becoming more confident in his writing. I still cannot say that he enjoys writing, but he is starting to accept that it's a necessary skill to know. In fact, the other day he told me that he read that he needed to learn to write properly so he could make quality scripts for his stop motion videos. Hey, it's a start! Whatever it takes to grab his attention in learning this skill works for me.
I am pleased with the content of
Writers in Residence
. It's thorough and systematic and is written in a way that my 10-year-old can understand. The assignments are interesting and not overwhelming. I have seen improvements in both my son's writing and his confidence. While he may never completely enjoy the writing process, I do believe this book is making a difference in helping him to accept it.
You can connect with Apologia Educational Ministries on the following social media sites:
Facebook
Twitter
Pinterest
Instagram
If you'd like to see how other homeschool families used this program, please
read the reviews
on the Schoolhouse Review Crew blog.