I mentioned in my
last review
how much my kids love science. They look forward to
Theory Thursday
every week when we do a science experiment. As
I said before
, this is the subject I struggle with. I love when my husband gets home early enough on Thursdays that he can do them with the kids. He loves science and understands it so much better than I do. Unfortunately, that doesn't always happen. So, I'm always checking out books from the library or searching the internet for fun experiments to do. When I had the opportunity to review a science DVD
full of experiments
, I jumped at the chance!
When
Amazing Science
Volume 1 arrived in the mail, my kids were ecstatic! I popped the first DVD in the player and all 3 kids plopped themselves on the couch. For every demonstration, a complete materials list is given, the experiment is shown from multiple camera views, and the concept is explained step-by-step. It was that step-by-step part that lost my 4-year-old. She doesn't understand all that technical stuff, just like her mommy. Poor thing. Jake, my 6-year-old, watched the entire first DVD, all 11 experiments, beginning to end. He kept saying things like "Wow! That's so cool!" and "I want to do that one!"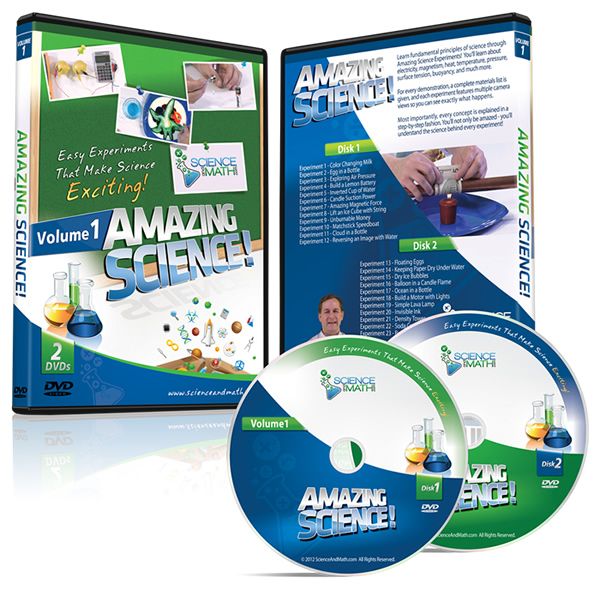 We had already done a few of the experiments before like
color changing milk
,
floating eggs
, and
lava lamp
to name a few, but there are many more that we haven't. After watching the video, Jake decided on
cloud in a bottle
for our next project. He was so excited to be making our very own, just like he had watched.
All 23 experiments are very well done and are explained in a way that a non-science-y person (like me!) can understand. The
2-disc set costs $19.95
or if you just can't wait to get it in the mail, you can download it now for $17.99 and start experimenting right away!
ScienceandMath.com
also offers many other DVDs for science as well as math. Make sure to check out their website to find ways to make learning science and math fun and easy.
We absolutely love these videos! I guarantee that my science-loving little boy will watch them many more times. And if you stop by our blog on Thursdays, you're bound to see another Amazing Science experiment performed by him. In fact, it was while watching this that he told me that instead of a lemonade stand this summer, he wants to have a science stand and perform experiments for $1.00! Who knows, maybe one day he'll make his own science video! Until then, we'll continue to watch these.
Don't forget to stop by the
TOS Crew blog
and read more reviews of Amazing Science.
* Disclaimer - I was given a copy of this dvd set in exchange for my honest review. All opinions are my own.