When I get a little money I buy books; and if any is left I buy food and clothes.
Desiderius Erasmus
I am one of
those
people.
You know, those people who loved English class in school. Those people who (in their minds) correct others when they speak incorrectly. Those people who majored in English in college. Those people who love to edit and often find mistakes in printed works. Those people who become giddy when their children use adverbs (
Can I play nicely?
) and subjunctive mood (
If Superman were real
. . . ) properly. Those people who love learning about the English language.
I love English.
*** ALERT *** ALERT *** As much as I love the language and know how to use it, I don't always use proper grammar. (Oh, you caught that ambiguous pronoun in the above paragraph? No? Don't worry, I'll wait while you look for it.) There are reasons for that. People in general don't use proper grammar conversationally and don't want to read a "stuffy" blog. Also, I'll write to prove a point or show emphasis. Sometimes I have sentences that I end prepositions with. And other times I start sentences with conjunctions. I even have sentences that are are not even sentences at all. Sometimes anyway. Even though it's intentional, the grammar snob in me screams in agony every time I do it. (Think I'm joking? I'm not.)

So, you can imagine my joy in reading a book all about the English language! King Alfred's English: A History of the Language We Speak and Why We Should Be Glad We Do was written by Laurie White after taking it as a college course and falling in love with the history of the English language. She travels through time and reveals how our language has altered and simplified through four invasions. The book starts with a lot of history of the people and time period as the stage is set to help the reader understand how much the English language has adapted.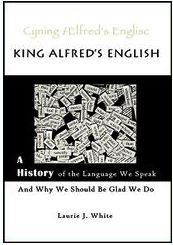 What gunpowder did for war the printing press has done for the mind.
Wendell Phillips
I learned so many fascinating facts in this book, including, but not limited to
Why upper case and lower case letters are called such
Why so many of our words are not spelled as they are pronounced
Where we get the 100 most commonly used words
The proper way to use thee, thou, ye, and you
How the King James Bible was written at the absolute perfect time
The books reads like the author is sitting down having a conversation with you. Her relaxed style is very easy to follow. In fact, a few times I felt it was a little too informal for an English book, but that's probably more enjoyable for most people, especially students. Over all, I loved this book and devoured its content. It is written to be used with students (grades 7-12), not just crazy English lovers. There are many resources on Laurie's website,
www.theshorterword.com
and pages for both the
teacher
and the
student
. Since my kids are 6 and younger, I read this book on my own. For some reason, I don't think they'd be as excited to learn why our sentence structure is designed like it is. One day though, I hope to pass on my love of this language on to them. And I know just what book we'll be reading.
You can purchase the
paperback version for $14.89
(also
available from Amazon
) and the
Kindle edition for $5.95
. (* Side Note: This is the first adult book I've read in its entirety on the Kindle. I'm in love! Yes, I still love a tangible book, but there's no denying how convenient the Kindle is, especially while nursing a baby!)
Also, the author has been generous in allowing me to offer HALF OFF the wholesale price to the first 4 people to comment indicating that they want to buy a paperback book!!! Simply leave me a message below along with your email address, and I'll send the code your way
. Trust me, this is a book you want to buy!
* Disclaimer - I was given a copy of this book in exchange for my honest review. All opinions are my own.
** Linked to Books You Loved.