We are thrilled every time get to review a product from
Home School in the Woods
. This time was even more exciting though, because we were able to use their newest product! The
Make-A-State Activity
, which is part of their
Activity-Paks
line, is filled with hands-on projects that teach all about the 50 states.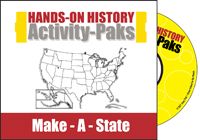 Home School in the Woods is a family business that was started as a way to make history real, understandable, and applicable. Using timelines and realistic illustrations as a foundation, they've created many resources to make learning history an enjoyable process. I, like Amy the driving force of the company, did not enjoy the boring textbooks in high school. It wasn't until we started our own homeschooling journey that I started to realize that learning history wasn't boring, but, in fact, could be quite interesting. I was excited to download this study and learn more about the individual states that make up America.
The download (also available as a CD) comes as a zip file. Once you open it, and see the multiple folders, click on the "start" file. At that point, the entire program will open in your browser, making it very easy to use. Instead of clicking through multiple folders, trying to bounce back and forth among the resources, everything is laid out as you need it.
The Make-A-State Activity-Pak contains templates to create an individual lap book for each of the 50 states and also includes a bonus book for Washington D.C.. The projects incorporate illustrations, coloring, creative writing, map skills, research, and more. Each lap book covers the same 20 activities. Some of the templates are the same for each state, while others are individualized. There are 20 activities for each lap book:
Key State Facts
Origin of State Name
State Motto
State Symbols
State Song
State Industry/Agriculture/Climate
State Wildlife
Regions
State Geography
State Government
State Seal & Flag
State History
Famous People From . . .
Native Tribes
State Landmarks
Sports Teams
State Quarter
Recipes
State Vocabulary
State Timeline
While there is a bonus page of learning about each state that is filled with facts and other brief information, the activity-pak is designed to compliment your own curriculum, text, or research. This product is different, in that sense, from the other materials we've used from Home School in the Woods (
U.S. Elections
Lap-Pak, Project Passport:
The Middle Ages,
and Project Passport:
Ancient Egypt
) that included the complete lesson texts. The company is known for their detailed, hands-on curricula, and this study does not disappoint. The activity-paks encourage independent study, by guiding the student through a series of topics and offering activities and projects. Hands-on assignments add another level of learning that helps the student to better retain information. There are detailed instructions for each project.
This study is recommended for grades 3-8, but, personally, I've found that it works well even for my younger kids (ages 5 and 7), too. We like to incorporate as much family study as we can, and the Make-A-Sate Activity-Pak is wonderful. Everyone can be involved, whether it's helping to research the information on the internet or helping to cut and tape or helping to draw and color.
We chose to start with the study of Michigan since that's where we live. The kids already knew things like the robin is our state bird and Lansing is our capital, but they've learned so much more than that the last month or so. They've enjoyed seeing our state symbol and flag, learning our motto, and listening to our song. We've studied about wolverines, assembly lines, the Great Lakes, the Soo Locks, meat pasties, and more.
The only negative opinion I have about this study is the breakdown of the PDFs. Because everything has very specific printing instructions (regular paper, colored paper, white cardstock, colored cardstock) each individual page is its own file. I understand the need for the "special" pages, but because of the individual files, you have to open each file individually and print. On pages that are double-sides, you have to open the file, print one page, turn it around, open another file, and print the back. The other studies we've used from this company incorporated more cardstock, whereas this one used mostly regular paper. It would be so much simpler, if the entire resource were one file, or could at least also be given as a single PDF, along with the current format. That way, I could choose the double-sided printing option and my printer can do the work for me when needed and have the option of printing all the regular pages at once. Printers have so many options now that make printing easy, and I really feel that this format hinders it.
It's the same complaint I have of each of the products from Home School in the Woods. I had really hoped to see this changed since it's their brand new study.
Aside from the printing frustrations, we absolutely love this study; so much, in fact, that we will continue with our study of the states, even with the extra work to get it all printed. The lap book activities are well done and offer such variety. Because of the slower pace of our summer schedule, we're at the point where the Michigan lap book is about to be assembled. The older kids (ages 9 and 11), especially like the resources from Home School in the Woods, and since they're away at church camp for the week, we'll wait until they're home to put it all together. I'm excited to see the final project with all its moving parts and opening flaps and pages.
Home School in the Woods really is a fantastic place if you're looking for hands-on history curricula. If you'd like another activty-pak, like this one, they also have options for
The New Testament
,
Artists
, and a couple others. If you'd like a product that includes more lesson text, their
Time Travelers
or
Project Passport
lines might be more appealing. The also offer timelines, map sets, lap books, and more. A new feature that is being offered is the
A La Carte Projects
, if you're looking for just a few projects for topical studies. Currently, you can even use code "alacarte" at checkout to get the Erie Canal project for free! Try it out and fall in love with their resources, just like we have. You can find
entire lists of products
on their website.
The
Make-A-State Activity
is a great resource for encouraging independent study of the 50 states. My kids and I are enjoying using this product and look forward all that we'll learn as we continue our study.
You can connect with Home School in the Woods on the following social media sites:
You can
read more reviews
of products offered by Home School in the Woods on the Homeschool Review Crew blog.